Iveco's latest Daily promises to shake up the minibus sector with cleaner engines and an impressive array of tech – plus a fresh new face. Peter Jackson travelled to Turin for the unveiling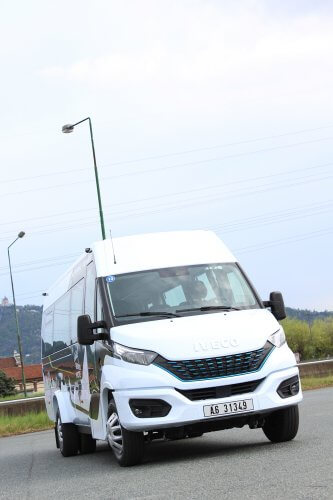 Now in its sixth generation, the Daily is a hugely significant model for Iveco. Production began way back in 1978, three years after the Italian manufacturer was founded, making it the longest-running vehicle in the company's line-up. That fact alone – combined with sales of over 3m units to-date – tells you all you need to know about the Daily's importance to the Turin-based firm. The unveiling of a new version of this crucial model is quite a big deal, then.
[…]
By subscribing you will benefit from:
Operator & Supplier Profiles
Face-to-Face Interviews
Lastest News
Test Drives and Reviews
Legal Updates
Route Focus
Industry Insider Opinions
Passenger Perspective
Vehicle Launches
and much more!
Speaking at the launch, newly-appointed President of Commercial and Specialty Vehicles, Gerrit Marx, said: "We have a clear roadmap for the future, a strategic vision that addresses the key trends driving our industry. Iveco is clearly here to stay, compete and win across all the segments where we operate today – from light to heavy trucks, buses and specialty vehicles.

"The New Daily perfectly represents our vision: with a revolutionary evolution, it remains true to its heritage, meets today's higher customer expectations, and is already prepared for future advances through its connectivity. It will change your business perspective."

Happily for fans of the Daily, the 2019 model has been engineered to build on the success enjoyed by the previous model, launched in 2014. Externally, the latest version looks much the same as its predecessor, with only minor changes to set it apart. However, look a little deeper and there is quite an array of new features to discover.

Enhanced engines

One area certainly worthy of investigation is under the bonnet. Lift it up and you'll find one of a range of new engines designed to meet Euro VI-D emissions regulations – the first vehicle in its class to do so.
The 2.3-litre F1A diesel, previously only available in light-duty form, is now available in heavy-duty homologation. Power and torque output on all three versions of the engine (120, 140 and 160) remains unchanged, but a new electronically-controlled Variable Geometry Turbine (e-VGT) has been installed to boost response and efficiency.
Also carried over from the previous model is the 3.0-litre F1C engine. Now only available in heavy-duty form, three power levels are offered: 160, 180 and 210 hp. The latter benefits from the e-VGT technology mentioned above, and is the most powerful engine available.

Moving away from diesel, two alternative fuel options are offered under the 'Blue Power' banner. First up is the heavy-duty Compressed Natural Gas (CNG) version of the F1C powerplant, branded 'Natural Power.' It boasts 136 hp and 350 Nm – although does without a variable geometry turbocharger, with boost instead controlled via a simpler wastegate setup – and is said to weigh around 300kg more than equivalent diesel models. A variant of the CNG-powered vehicle is available in Europe with an additional 14-litre petrol tank, which is used as a 'get-you-home' reserve fuel supply if the engine uses all of the gas on-board. Currently, however, there are no plans to offer this version in the UK.

CNG-fuelled Dailys are already hard at work on UK soil. Start-up firm Blue Bus Innovations has three previous-gen examples running on its central London to Luton Airport service, which it took delivery of back in November. Each seating 16 passengers, the performance of the CNG-powered Tourys models has proved to be comparable to that of the diesel version, which they also have three of.

All of the refreshed engines benefit from a larger sump, which Iveco says has enabled oil change intervals to rise from 50,000 to 60,000 km – contributing to a claimed 10% reduction in maintenance costs in urban usage. Although Iveco hasn't yet specified precise fuel economy figures, it suggests that consumption across the board will be reduced by up to 10% on the new range. This is thanks in part to the use of start/stop on the 2.3-litre engine, as well as ultra-low rolling resistance tyres developed specifically for the Daily by Michelin.

Rounding out the line-up is the electric version. Largely unchanged over the previous model, it puts out 107 hp and 300 Nm of torque, and has a maximum range of 124 miles. Three Sodium Nickel Chloride (SONICK) batteries store the energy, which Iveco prefers over the likes of Lithium-Ion due to their safety and sustainability; they are entirely recyclable and have a wider operating temperature range.
Gearbox options also remain unchanged, with the eight-speed Hi-Matic from ZF continuing to impress (see panel). A six-speed manual is also available.
Convenience and safety
Besides the revised powertrain line-up, the bulk of the revisions made on the new Daily can be found inside. No, I'm not talking about visual changes – although the 14mm-smaller steering wheel and revised materials are welcome – but new technology. For the 2019-spec Daily, Iveco has gone to town on driver assistance features in particular, aimed at making drivers' lives on the road that bit less stressful and – crucially – safer.
The Advanced Emergency Braking System has been designed to prevent collisions at speeds below 31 mph, and reduce the level of impacts at higher speeds. This works in tandem with City Brake PRO, which can prevent accidents at speeds as low as 3 mph.
Also working to keep the driver – and others on the road – safe is Crosswind Assist. This uses the vehicle's Electronic Stability Control (ESC) system to brake individual wheels when a crosswind is detected, minimising its effect on the vehicle's trajectory.
Combine this with ProActive Lane Keeping Assist – which not only vibrates the steering wheel when the vehicle strays out of its lane but can also steer itself back into line – and the risk of higher-speed accidents could be significantly reduced.
In terms of driver convenience features, Daily customers can now opt for Adaptive Cruise Control and its sidekick Queue Assist. Adaptive Cruise Control is now a familiar concept to the automotive industry, although is far less common on minibuses; it's able to detect cars ahead and maintain a safe distance while travelling at a set speed. When the driver inevitably reaches a jam, Queue Assist takes over. Using the same technology, this can take control of the accelerator and brake to maintain a safe distance from the vehicle ahead in stop-start traffic.
Standard on the refreshed Daily is an electric handbrake, which automatically engages when the driver stops and disengages when they begin to pull away. Not only handy for hill starts, it should make life a little easier for those stopping to pick up passengers on the likes of community bus services.
The Daily's steering has been electrified, too. The old hydraulic power steering system has been binned in favour of an electric system, which has been developed to filter out unwelcome vibrations from harsh road surfaces. A City Mode can be engaged at the push of a button to increase the level of steering assistance, which Iveco says can reduce the effort required to turn the wheel by up to 70%.
Speaking of steering, the wheel can now be tilted as well as telescoped, which should make it easier for to find a more comfortable driving position.
Not all of the features listed above are offered as standard, but a fully-loaded model incorporating the entire suite of safety tech will be available.
Proactive technology
Perhaps the buzzword of the unveiling event was 'connectivity.' Back in 2016, Iveco launched its Daily Business UP app, offering real-time updates on a vehicle's status and remote control of some of its functions. That concept has been taken one step further with the launch of the new Daily; Iveco has worked with Microsoft to develop a remote connectivity system which allows dealerships and service centres to keep tabs on the vehicle's health to maximise uptime.
Now, in addition to being able to view information on a vehicle's fuel consumption and the way it's being driven through the 'MyDaily' online portal, Iveco specialists can connect to the vehicle remotely to diagnose issues (and potentially even fix them at the roadside), schedule maintenance, perform software updates and anticipate failures which could cause a breakdown. Fabrizio Conicella, Global Head of Digital – Commercial & Specialty Vehicles explained: "It's about being more proactive; we want to be closer to our customers, be more customer-centric and improve uptime as much as we can."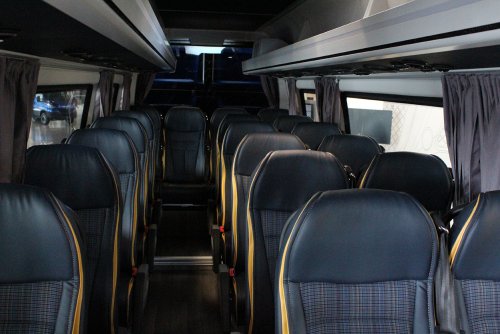 Building on this functionality, Iveco announced a partnership with Verizon Connect at the launch event. Intended for fleet managers, this telematics service is available in three levels: Fleet Essential without tachograph drivers' hours, Fleet Essential with tachograph drivers' hours, and Fleet Enhanced with tachograph driver hours and the ability to download tachograph data remotely. Alternatively, operators with a mixed fleet who already have a fleet management system will be able to receive all of the Daily's data through via a specially-designed website, eliminating the need to purchase or download additional software.
Design and variants
Exterior alterations to the new Daily may be subtle, but they have been well thought-out. Up front, optional LED lights give the Daily a crisp and more defined appearance than before, which is reinforced by a taller, more prominent grille. Hi-Matic gearbox-equipped Dailys receive a chrome grille, Blue Power models a blue one and manual, diesel models a black one.
Beneath the grille is a new three-piece bumper. Intended to further reduce maintenance costs, each piece can be individually replaced – rather than having to replace the whole assembly – as Iveco says that in 90% of cases only part of the bumper is damaged in an accident. Plus, the new bumper protrudes further from the front end than previously, reducing the risk of expensive damage being done to the body panels.
As with the previous-gen Daily, two minibus variants are offered – the Daily Line and Daily Tourys. Factory-built models range from 16 to 22 seats, although the latter is only available on the Line – not the Tourys – as a consequence of its 2.5m3 drop boot. UK operators will be pleased to hear that right-hand drive is available immediately, too.
On display was a Tourys plus, a 19-seater plus courier model weighing in at 6,500kg – the highest number of seats available on a Tourys. Fitted with rear air suspension and the Hi-Matic 'box, opening up the nearside plug door also revealed luxuriously-trimmed Kiel seats with USB ports and a wood-effect floor.
Still built as a bo
dy-on-frame construction, the Daily maintains its rugged design and high carrying capacity – and should continue to provide flexibility for body-builders.

The early signs are positive; Iveco is already working with Noone, manufacturers of the Turas range, Mellor Coachworks, NuTrack and Courtside Conversions, all of which intend to continue building on either the 5.2-tonne 50C van chassis or 70C 7.2-tonne chassis cowl versions of the Daily. Although these were the only bodybuilders mentioned by Iveco at the launch event, others will undoubtedly follow in the coming months.

[/wlm_ismember]