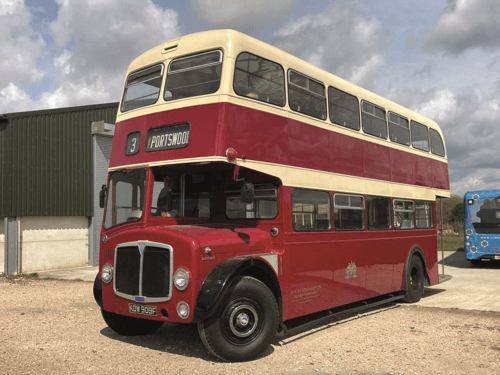 An incorrect image was used in our coverage of the upcoming Southampton running day on 19 February organised by the Southampton and District Transport Heritage Trust (SADTHT). The AEC Regent illustrated, KOW 909F (401), is in fact a member of the Xelabus fleet and will be in service for a day in a separate event on Saturday 18 February, the last day of operation by First in the city, with the aim of getting as many former Citybus/City Transport employees together to travel on 1960s city routes.
401 will be in service on route 7 at 0930hrs from Vincents Walk to Shirley, 1000hrs on route 9 from Shirley to the city centre, route 15 at 1045hrs from Pound Tree Road via The Avenue to Swaythling, followed by service 13 to the Docks via Portswood, service 17 from the Docks to Shirley and then in the afternoon will operate a circular trip on route 4 before a final return journey on route 6. All details can be found on the Xelabus website, and passengers will be able to get on and off the bus on route as it will stop at all bus stops.
We apologise to Xelabus and SADTHT for the mix-up.