Reading Buses' latest purchase, Courtney Buses, moved depot on Wednesday 22 May.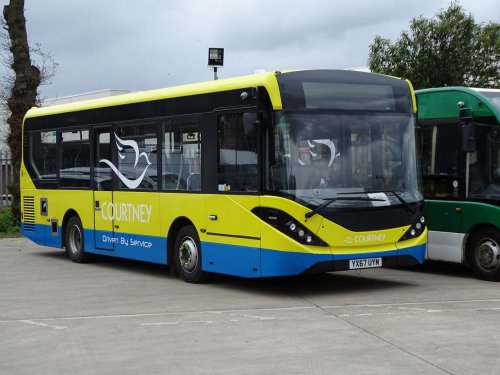 Courtney Buses has been at the Market Street depot in Bracknell since 6 July 2016. At that point the fleet numbered 57 vehicles; Courtney Buses' website now lists 62 vehicles.
The depot was originally built for The Berks Bucks Bus Company Limited in 1987, which traded as The Bee Line.
In March 1996 the business was sold to former London Transport subsidiary CentreWest, and a year later CentreWest was purchased by FirstGroup.
Operations then ran as First Beeline, until the current name of First Berkshire and the Thames Valley was introduced in 2001.
The Market Street depot housed the Bracknell and Green Line fleet, as well as maintaining the American Bluebird school buses.
First Berkshire vacated the depot on the 28 August 2015 after tender losses to Courtney Buses.
The new depot is now located at: The Maple Centre, Unit 3, Downmill Rd, Bracknell, RG12 1QS.
You can read more Bus News here: cbwmagazine.com/category/news/buses