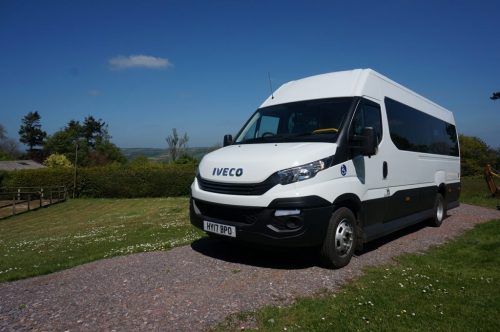 Devon-based Courtside Conversions, specialists in wheelchair accessible vehicles and minibuses, has been welcomed into Iveco's Busmaster advocate programme.
Iveco awards its Busmaster seal of approval to trusted and reliable bodywork providers after a stringent auditing process. Designed as a reward for providing high-quality products to Iveco customers, accredited suppliers are given access to the Busmaster support network; which includes a wealth of tools for members, such as CAD drawings and sales and marketing collateral.
Abdi Ali, Product Manager for Iveco Bus UK, said: "The Busmaster programme allows us to drive customers to a network of qualified bodybuilders across Europe, when they're looking for bespoke bodywork.
"Courtside Conversions has significant experience building vehicles on the Daily chassis, and it's fantastic to welcome them into the programme as our ninth UK partner."
Courtside Conversions has built a dedicated demonstrator which it is making available for fleets to trial anywhere in the UK. The Iveco Daily WAVE is a 16-seater wheelchair accessible vehicle, which features access via a triple step design through the main cab door, as opposed to requiring a side sliding door. With air suspension on the front axle as standard, this helps to facilitate access for limited-mobility users – an innovation resulting directly from customer feedback. It also features a wheelchair lift at the rear.
Emmie Birchmore, Sales & Marketing Manager for Courtside Conversions, commented: "We were thrilled to be given Iveco's Busmaster endorsement. Quality is key for us, and recognition from a major manufacturer enhances our brand significantly. We are also now benefitting from having a direct channel of access into Iveco Bus, and being able to promote our range via the Busmaster website."