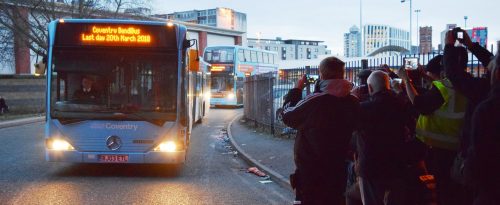 After 15 years of service, Coventry's fleet of BendiBuses completed their final day of service on Tuesday, March 20.
Held by National Express Coventry, the BendiBus Farewell event marked the end of the articulated fleet's operation in the West Midlands; Mercedes-Benz Citaro 0530G number 6021 (BJ03 ETL) was the last example in service.
Both members of the public and bus enthusiasts from around the UK hopped on 6021 for its final miles in passenger service, on the 1649hrs number 4 route from University Hospital to Arena Park.
National Express officials – including managers from the Pool Meadow, Coventry depot – joined passengers on the route, who were then invited to remain on the vehicle as it made its way back to the garage.
Shaun Boyce had the honour of driving the Citaro for the final time in service – 15 years after his grandmother took him for a ride on a BendiBus on their first day of operation – returning the bus to the depot at 1755hrs as enthusiasts lined up to take photographs, applauding.
Since 2003, the controversial buses have been a constant fixture on the streets of Coventry, beginning as Travel Coventry PrimeLines-branded buses before being taken over by National Express.
Having reached the end of their working life, it's expected the articulated Citaros will be scrapped.