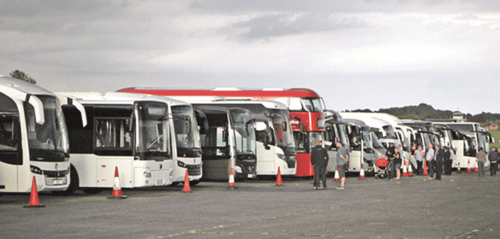 The CPT's Ride & Drive event for bus and coach operators returns next month. Taking place at North Weald Airfield in Harlow on 24 July, the event presents an opportunity for coach and bus operators to test drive the latest vehicles provided by a wide range of manufacturers. Companies in attendance, who will have vehicles to test drive, include Volvo, Mercedes, Dawson Group, EVM and Daimler. The event, which attracts hundreds of attendees, is also an ideal opportunity to network and catch up with other industry leaders and colleagues.
Regional Manager of CPT London & South East and CPT East Midlands Karen Tiley said: "We look forward to welcoming CPT members from all over the UK to what is set to be an exciting afternoon and evening's activities. With such a stellar line-up of manufacturers exhibiting, it is not one to miss."
Dawson Group Regional Sales Manager Chris Mobbs added: "The CPT Ride & Drive event brings together manufacturers and operators from the UK's bus and coach industry in an informal setting and is a valuable platform for reconnecting with familiar faces and making new connections. It is a perfect opportunity for operators to experience the broad range of new products showcased by some of the leading bus and coach manufacturers and a great way to stay updated on the latest developments."
Free to attend for CPT members, the event starts at 1600hrs and will include a buffet and hog roast.