The Confederation of Passenger Transport (CPT) is to hold a brand-new event next month looking at the future of the coach industry.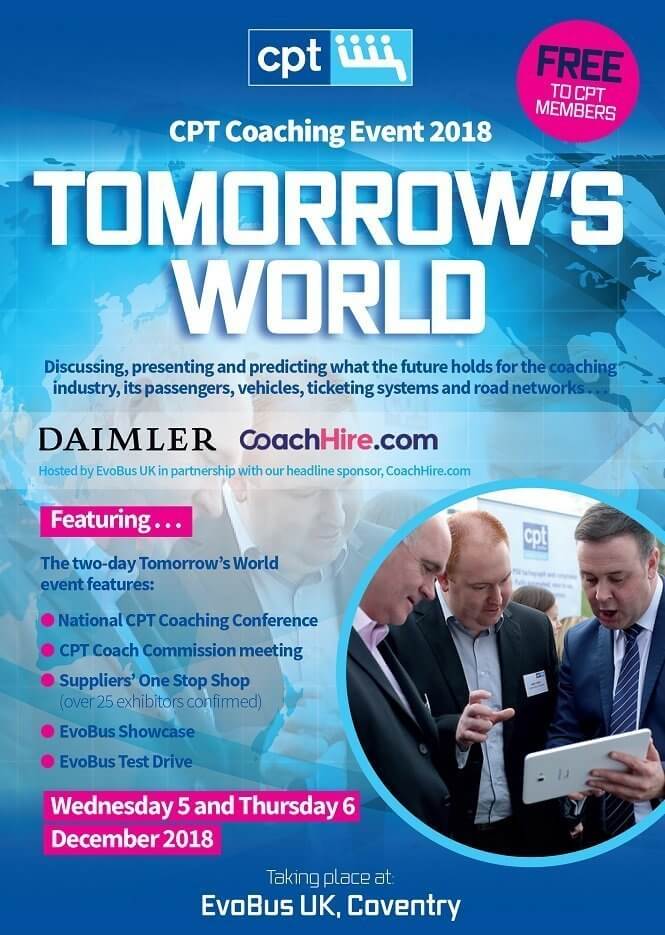 Called 'Tomorrow's World,' the event is free to attend for CPT members, and will take place at EvoBus UK in Coventry on Wednesday 5 and Thursday 6 December.
As part of the event, the CPT's annual national Coaching Conference will take place on the second day, and will include presentations from Matthew Hassell of headline sponsor CoachHire.com, the Low Carbon Vehicle Partnership, National Infrastructure Commission, EvoBus UK, CPT UK and UK Government Security Advisors.
The event also includes an 'open' meeting of CPT's Coach Commission, 'One Stop Shop' exhibition of CPT Supplier Members, 'EvoBus Showcase' and ride and drive opportunities.
John Johnson of Johnsons Coaches and Chair of the Conference said of the event: "The revamped event demonstrates both CPT's and the industry's commitment to the sector and acknowledges the many challenges which we will all face over the coming months and years.
"The conference also provides members with a great opportunity to learn, discuss and debate many of the key issues currently impacting on the industry.
"The 'Tomorrow's World' theme recognises the vital role and benefits that technology, in particular digital and web-supported services, will provide to passengers, drivers and operators as we move into 2019 and beyond.
"Our expert panel of speakers taking to the conference stage on day two of the event may not have a crystal ball to predict the future, but you can be sure that those in attendance will leave being far better informed and prepared for the challenges which lie ahead.
"I strongly recommend that all operators and CPT members with a vested interest in coaches join for what I'm sure will be an interesting and informative couple of days."
To book your place at the event, contact Ling Tang at CPT on 020 7240 3131 or [email protected]