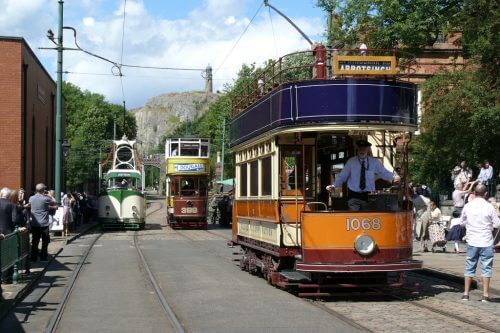 Crich Tramway Village has told CBW it is keen to welcome coaches to its vintage-themed attraction, located near the town of Matlock, Derbyshire.
The village offers visitors a 'step back in time' – classic trams run along a mile and a half of track, climbing through a period street, surrounded by views of the countryside.
Incorporating the National Tramway Museum, the site features a number of exhibitions and a Workshop Viewing Gallery, transporting visitors to bygone decades.
The Great Exhibition Hall tells the story of the tram – from horse-drawn to electric – with smaller exhibitions such as Arms to Armistice, looking at the challenges women faced working on the trams prior to the end of the First World War.
Also on offer is a Woodland Walk & Sculpture Trail which re-emerges at the village, along with a pub and tea rooms and The Forge Gift Shop; a series of First World War commemorative sculptures are new for this year.
Marketing & Business Development Manager, Amanda Blair told CBW: "We offer pre-booked groups of 10 or more discounted rates, and welcome coach groups.
"Drivers receive free admission and a refreshment voucher and there is free parking close to the entrance".
Located close to a number of the main routes through the Midlands, Crich is easily accessible from cities including Sheffield, Derby, Nottingham, Leicester, Stoke-on-Trent and Birmingham. Eight miles off junction 28 of the M1, it can also be reached using the A38, A6, A61 and A52.
Group entry rates are £10.50 for adults and seniors and £7.00 for children aged four to 15; and under fours go free.
An Access Tram for wheelchair users runs twice a day on request, and there is disabled access to all the facilities.
The site is open daily until Sunday, November 4 from 1000hrs. For more details and opening times, visit www.tramway.co.uk or call 01773 854321.