Cuckmere Buses has taken delivery of a new Euro VI City Low Floor Sprinter (16 Seat + six standing + one Wheelchair) from EVM.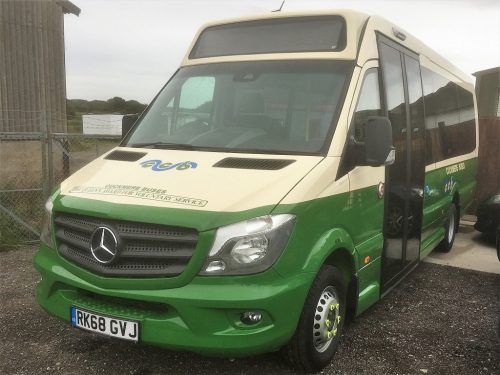 Cuckmere Buses, the trading name for Cuckmere Community Bus (CCB), is an independent charity run entirely by trained volunteers.
It was launched in 1976 to supplement existing bus services and provide bus links for village residents to their nearest towns throughout the Cuckmere Valley area.
The EVM City Low Floor Sprinter will be the second example to join this mostly Mercedes-Benz-powered fleet.
The Mercedes-Benz Sprinter is based on the Euro VI 516 CDI 163bhp common rail direct injection diesel engine.
The transmission is a seven-speed G-Tronic automatic gearbox, the EVM City Low Floor body also featuring double glazing, a heater booster, Masats double leaf entry doors and LED destination equipment.
Speaking to Minibus, Philip Ayers, Managing Director of Cuckmere Buses said: "This is the second Mercedes-Benz Sprinter we have received from EVM.
"We ordered this one on the basis of the excellent passenger reaction to the first one we took in 2016. We specified the longer wheelbase in order to ensure better seat spacing and comfort for passengers on our Seaford town service 120, which operates six days a week.
"The new vehicle is being used on services 41, 44, 45, 125 and 126 which serve Eastbourne from a variety of different starting points, and the initial reaction from the passengers on those routes very good."