The manufacturer showcased tech which it believes will future-proof the diesel engine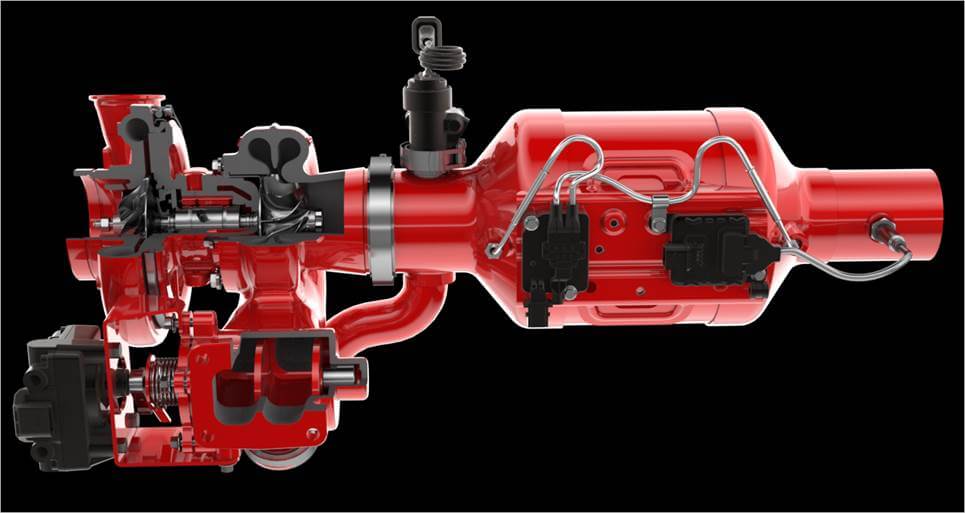 Cummins has announced an all-new 'Concept Integrated System' at a press event ahead of 2018's IAA Commercial Vehicle show.
Despite broadening its portfolio with the recent acquisition of electric powertrain provider Efficient Drivetrains, Inc and Johnson Matthey's UK automotive battery systems business, Cummins remains adamant that diesel has a key part to play in the future of transport – and continues to invest heavily in research and development.
The culmination of this R&D effort is the company's 'Concept Integrated System', which combines a turbocharger and aftertreatment system in one product.
Incorporated in the system is a fixed-geometry Holset turbocharger with integrated Rotary Turbine Control (RTC) and a Close Coupled Unit with a Selective Catalytic Reduction (SCR) catalyst.
The goal of the integrated system is to better manage heat and boost fuel economy; the manufacturer claims it will deliver an increase in overall engine performance as well as an increase in efficiency.
The integrated RTC eliminates the need to inject fuel ahead of the aftertreatment system to heat it up and maximise its efficiency, a common practice with current solutions.
Instead, the RTC allows up to 50 to 60% of exhaust gases to bypass the turbine stage and enter the SCR unit, which is first injected with urea by Cummins' new UL4 injector.
According to Cummins, the exhaust gases reaching the SCR aftertreatment unit are 70°C hotter than traditional setups as a result, which allows the catalyst to perform better than would be possible otherwise.
This system – along with a seventh-generation variable geometry Holset turbocharger also showcased at the event – are intended to keep Cummins ahead of the curve when it comes to meeting future emissions regulations, most notably the Euro VII standard.
The upcoming seventh-gen turbo is claimed to be the most efficient yet, thanks to improvements in its patented nozzle and shroud design.
"It is an exciting time to be in the power industry. Customers are demanding power options that deliver greater efficiency, reliability and flexibility, with reduced emissions," said Tracy Embree, President of Cummins Components.
"As engine manufacturers race to meet the demand for new power solutions, we are seeing new concept systems and innovations shaking up the industry and we're proud to be at the forefront of these developments.
"At Cummins we are addressing this shift in the market by expanding our portfolio of products to reflect the needs of the future.
"In order to meet challenging new environmental guidelines, we're adapting engine technology to meet the most recent emission standards, resulting in diesel engines that are cleaner, simpler and more efficient.
"At IAA we will reveal the new technology that we believe will future-proof diesel engines for the next generation."