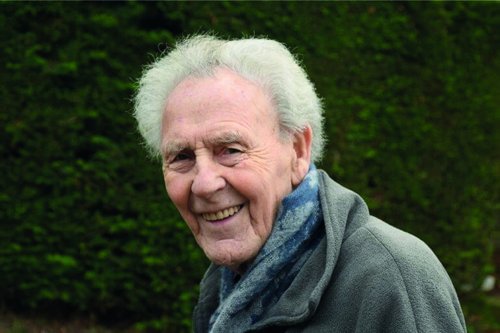 People from across the industry have paid tribute to a true industry legend, who passed away last week. NICK LARKIN reports
The word 'legend' can be over-used and over-played but it seems the only word to sum up Mr Cyril Kenzie, one of the best-known and most highly-regarded people the bus and coach industry has ever produced. Cyril – he wouldn't have thought much of that 'Mr Kenzie' – died on Tuesday of last week aged 93. His career, beginning in 1947, had spanned 72 years with Kenzies of Shepreth.
Whether you first met Cyril at the 1955 British Coach Rally, as a senior manager at the Van Hool factory in Belgium or as one of the countless thousands of children he took to school, you would have latched on to his easy charm. Tribute after tribute to Cyril cites his kindness, willingness to help and his capacity for hard work and energy. I had the privilege of meeting and interviewing him on many occasions over the past 20 years, latterly in June, to look at some newly-unearthed family album over tea, and once again to view some of his magnificent vehicle collection.
Though relying to a significant degree on his mobility scooter he was as enthusiastic as ever to 'do the tour' of his collection. I last saw him at the Fenland BusFest in July, still taking a great interest in the buses and coaches, and the people with them. Cyril was a talking passport to history. He had attended every British Coach Rally (and its successors) since 1955 and was voted coach driver of the year in 1957 and 1969. At one point he was Britain's oldest PCV licence holder, driving well into his 80s.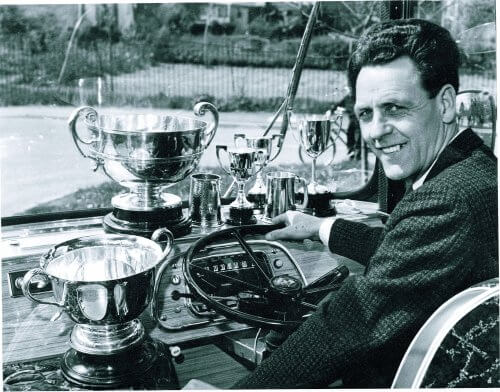 He lived in the Cambridgeshire village of Shepreth since he was two where his dad, Bernard, worked in a local nursery before running lorries and taxis. He acquired a 20-seat Bedford coach to carry American servicemen. After completing a four-year engineer apprenticeship with South Cambs Motors in Melbourne, Cambs, Cyril was called up at the age of 18, serving with the Royal Electrical and Mechanical Engineers. Kenzies Coaches was set up in 1947 with Willmot C20F-boded Bedford WLB CBH 422, bought from Lee of Chesham.
Fleet expansion took place, mainly with Bedfords, throughout the 1950s with schools, works contracts and group trips, not least the Foxton Yokels entertainment troupe whose members included Joy, the lady who became his wife. Kenzies' Setra VAV 1X was voted Coach of the Year 1982. More ambitious tour work, some of on behalf of companies ranging from Globus to National holidays, characterised the 1980s.
Volvo took over from Bedford as the main source of vehicles, Cyril becoming a major fan of Van Hool bodywork. Plaxton-bodied Bedfords would stay with Kenzies until, after gradually being wound down, the company ceased trading in 2019, a move Cyril described as 'heartbreaking.' "My son Richard wanted to retire at 65 and I fully understood why," he said. He added that although the industry had 'completely changed' he was still fascinated by current developments. "I read the magazines and every day someone rings me up for a chat."
Cyril had been hoping to open a museum at his premises and most importantly had already booked the caterers for his 100th birthday celebrations. Maybe the booking should remain for a massive tribute to Cyril.
Sadly Cyril had a fall at home in August, breaking his hip, and following several weeks in Addenbrookes hospital in Cambridge he was moved to a nursing home at Royston.
He leaves his wife, Joy and son Richard, five grandchildren and three great grandchildren.
Cyril and preservation
Cyril had always loved old vehicles and 'got madder as I got older,' building up a fine collection and restoring many more for customers.
His favourite without doubt was his beloved 'Joby,' a 1951 Bedford OB bought from its original operator Barber of Mitcham in 1963 and operated for many years. He was then offered Plaxton-bodied Bedford VAL GUP 743C in 1971, which had been with its original owner, Carr of Silksworth, from new. Harrington bodied VAL CNW 155C was a massive project and Cyril also retained Bedford J2 KNK 373H in the livery of original owner Rickards, and B948 ASU, a now unique Van Hool B51-bodied Volvo B10M service bus new to Hutchison of Overtown.
His collection also included 1963 Leyland Leopard L2/Harrington C28F 750 DCD and PJE 999J, a 1971 Plaxton-bodied Bedford YRQ, owned from new.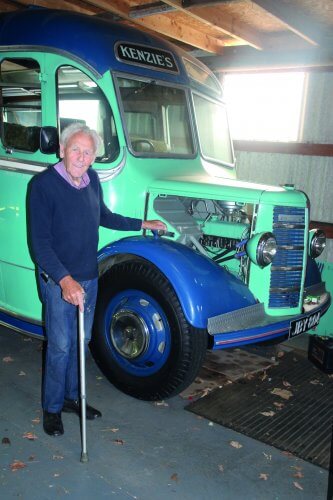 Cyril remembered
Reflecting Cyril's popularity across the industry, friends and colleagues were quick to express their condolences and share memories.
"My dad died in the early 80s when I was only 27, leaving me with the company. Cyril stepped in with so much help and support and I've always been grateful to him. He was a true gentleman."
Graham Cooper, Director, Coopers of Killamarsh
"Cyril was a lovely chap and a great boss, though he never suffered fools gladly. He had a policy that you left your vehicle as you found it. Many is the time I would pull into the depot at 0100hrs and Cyril would come out to help me clean. That sums up the man. He also had so much energy, and would think nothing of driving to the Van Hool factory in Belgium to see how work was progressing on his coaches."
John Cottrill, Kenzies driver, 1966-2010
"My father knew Cyril in the 1960s and I was most fortunate to have known Cyril since childhood. He always had time for young people and was very supportive when I, along with others, were breaking into the industry. He was kind to everyone and nothing was too much trouble. He was always supportive of those within the industry along with those new to it. Cyril had some great stories to tell and was an absolute delight to spend time with particularly when travelling together on industry trips. He was highly thought of, known throughout the country and respected by everyone, from small to large operators, and the many people he worked with throughout the dealer network making friends along the way. We have all lost one of the most influential and iconic characters from the UK coach business, Cyril will be sadly missed by us all."
Simon Dew, Managing Director, Dews Coaches, Somersham, Cambs
"Many younger people in the coach industry have looked to Cyril for help and advice over the years, He had an infinite knowledge, experience and wisdom and we feel lucky to have known him. He was a constant figure in our lives and he inspired so many of us. The standard of presentation of Kenzies' coaches shows how Cyril strived for perfection. He will be much missed."
Andrew Fowler, Managing Director, WH Fowler & Sons, Holbeach Drove, Lincs
"We have known Cyril since the 1960s. He was always pleased to offer help and assistance, and we became good friends. He was always so active, and that kept him going, In fact I saw him just a few days before he went into the hospital. When I said we needed a part he went straight into the shed and got what we needed, He would always help anyone out and he will be very much missed."
Andrew Myall, Proprietor, Myalls Coaches, Bassingbourn, Cambs
"I first met Cyril when I worked for Plaxton. We had repaired one of Cyril's coaches that had been in a frontal smash. Unlike most customers he didn't just take the coach but was interested in how the work had been done. I later ran the bodyshop at Sworders of Walkern and when that closed Cyril took me on. He was a lovely chap to work for and very supportive. As far as he was concerned, if something could be done it would be done. This was particularly the case with the Harrington-bodied Bedford VAL we restored, which many people said couldn't be done.
We took the coach to the Brighton Rally and were eating some fish and chips when someone asked if Cyril would sell the coach. He became persistent and said he was sure it could go for a million pounds. Cyril said 'I'm here, eating chips with people I like and a coach that has been restored and that people like. What would I want with a million pounds?'"
Robbie Mynott, Coachbuilder,
ex-Plaxton, Sworders, Kenzies
"Cyril was truly a mentor to me. I first worked for him after, when I was on a school bus he was driving, he asked if anyone would be interested in coming to work for him. I worked on many restorations and when Kenzies closed started my own business in the former body shop. Cyril offered me advice and encouragement, and right until the end visited regularly on his mobility scooter. I am very sad to hear that he has gone."
Darren Stanford, Managing Director, Darren J Stanford Coachworks, Shepreth, Cambs