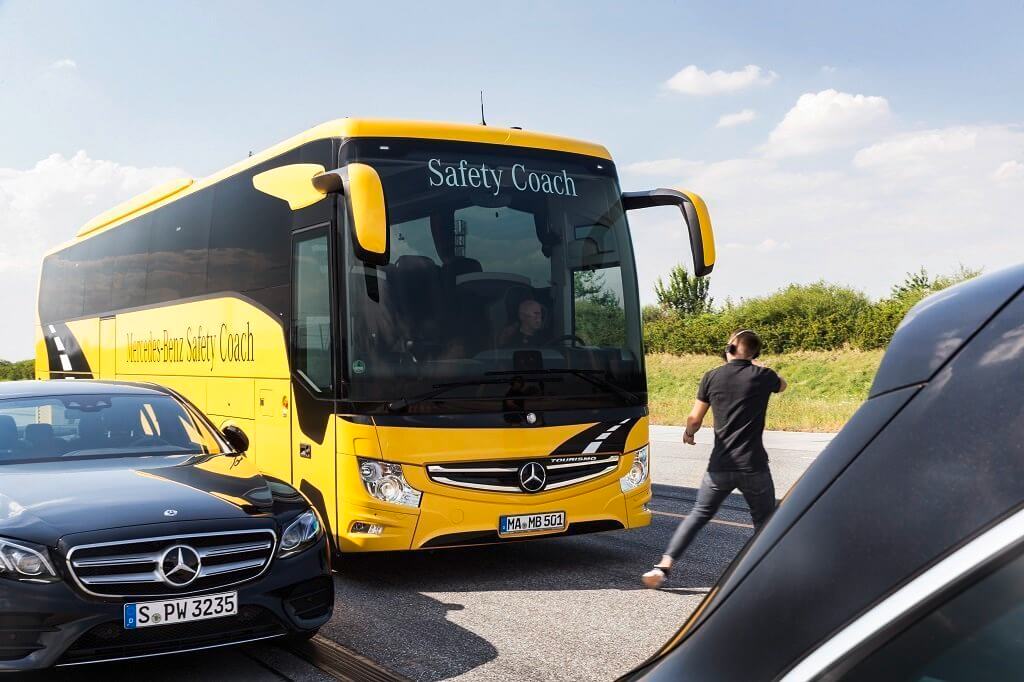 Daimler has announced the latest iteration of its Active Brake Assist (ABA) technology.
First made available a decade ago as an optional extra, the technology was originally only capable of braking automatically for moving vehicles ahead, but with the third generation, emergency braking manoeuvres could be triggered by stationary obstacles.
According to Daimler, the system was 'one of the main triggers for the mandatory introduction of automated emergency braking systems in touring coaches from autumn 2015 in the EU.'
ABA has now evolved into its fourth incarnation, and is able to automatically brake partially for pedestrians.
The main area of development in the updated version is a new multi-mode radar system, incorporating both short and long-range radar.
ABA 4 will be offered as standard on all of Mercedes-Benz and Setra's range of touring coaches in 2019.
Till Oberwörder, Head of Daimler Buses, explained: "By taking this step, we are making our already safe buses and coaches even safer.
"We are certain that Active Brake Assist 4 will not only prevent accidents, it will save lives."
Preventative Brake Assist and Sideguard Assist
Mercedes-Benz buses are also set to benefit from braking assistance technology for the first time. The new Preventative Brake Assist is the first active emergency braking system to be offered on a city bus, according to Daimler.
This system warns of potential collisions with pedestrians as well as stationary or moving objects, automatically braking partially if it detects an impending accident.
It has been designed to avoid emergency stops, with Mercedes-Benz keeping the stop-start nature of city traffic in mind when calibrating it.
While the system will only brake partially if it senses danger, the driver can always override it and perform an emergency stop if necessary.
Preventative Brake Assist will be offered as an option on each variant of the Citaro and Conecto.
Sideguard Assist, first launched alongside the Setra S 531 DT bus in 2017, is also now being offered as an option on both the Citaro bus and Tourismo coach ranges.