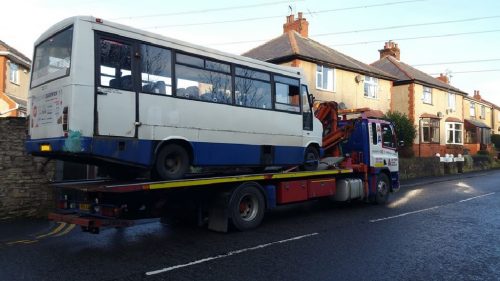 Operator stops operating 18 bus services and makes eight drivers redundant
Darwen Coach Services has ceased trading after one of its vehicles was seized by Blackburn and Darwen Police for lack of insurance.
The vehicle was taken during a joint operation with the DVSA. A single passenger was on board at the time, who was transported to work by officers from the police service.
The operator is registered as a sole trader, David Robert Russell, trading as Darwen Coach Services, with authorisation for 10 vehicles.
The Lancashire Telegraph reported that the company ceased trading 24 hours after the vehicle had been seized for lack of insurance. It followed another vehicle, an Optare Solo, which was seized for the same reason in recent weeks.
Eight drivers were made redundant as a result of the sudden closure and 18 bus routes in Blackburn and Darwen were left without buses.
The borough council said it was informed at 0700hrs and took 'emergency steps' to cover two of the company's school bus services, but six were only re-instated for the afternoon journey.
Peter Graham, Darwen Coach Services Transport Manager, said: "The company ceased trading this morning.
"It was a very sudden decision to do with 'in house' problems at the company.
"It was connected with the seizure of vehicles having no insurance.
"Blackburn with Darwen Council managed to make arrangements for the majority of our school transport services.
"We employed eight drivers."
A spokesman for the Office of the Traffic Commissioner told CBW that there was currently nothing listed by way of a public inquiry involving the operator.
He said the licence had been curtailed previously, but since the decision was made in October 2004, it would appear in the operators evidence but not be used as evidence against the operator, since it occurred more than five years ago.
Blackburn with Darwen Council highways boss, Cllr Phil Riley, said the authority's priority would be maintaining statutory services in the interim.
He said: "We recognise the huge problems that Darwen Coach Services ceasing to operate is going to cause for bus passengers across the borough.
"Our priority is first to ensure that our statutory school services are maintained and all pupils on former Darwen Coach Services contracts are able to get to school.
"A temporary service has been arranged until Christmas and into the New Year following which the contracts will be re-tendered.
"We are also starting discussions with other operators in the borough to see if they are able to take on the other withdrawn bus routes."