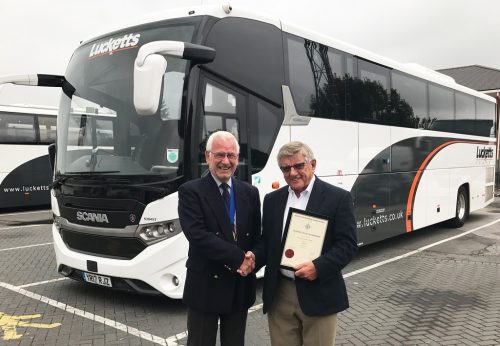 David Luckett has been named as a Fellow of the Institute of Transport Administration (IoTA) after a lifetime of dedication to the coach industry.
David, Chairman of Fareham-based Lucketts Travel, was presented with the accolade last week during a surprise visit from IoTA members.
The IoTA is a professional membership body that encourages efficient transport best practice and works worldwide. It said the title of Fellow is only given to people of special distinction or eminence who have given distinguished service to the industry and the institute.
David, who has been a member for more than 40 years, said: "It was a wonderful surprise and an absolute honour to be named as a Fellow.
"Having worked in the coach industry over several decades I have seen many changes, not least with the evolution of technology. Approaching the challenges and opportunities presented by each of them has always been exciting and I'm looking forward to what the coming years have in store."
Ray Rowsell, Solent Centre Chairman and National Executive Member of the Institute of Transport Administration, added: "The accolade of Fellow is only awarded to those who have provided exceptional service over many years and we know that this is very well-deserved by David. We couldn't think of a better way to thank him for his continued support to the organisation and the industry."
David's career in the transport industry spans over more than five decades. He was instrumental in Lucketts' move into the coach travel industry in the 1970s when he said it would be easier for the company, until then a haulier, to transport things that can walk on and off by themselves. He bought the first coach in 1976 and Lucketts now has a fleet of 130 vehicles and 320 staff.