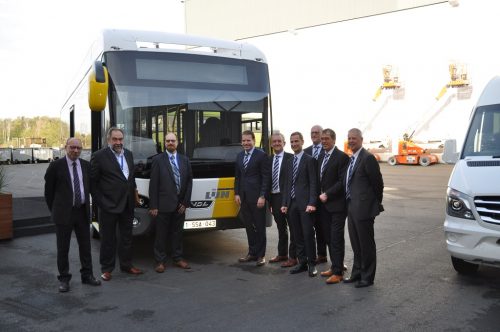 Flanders bus operator goes for the local option to upgrade its fleet with 121 new vehicles
BELGIUM De Lijn has ordered 66 VDL Citea SLE-120 hybrids and 55 VDL Citea SLE-120 diesels from VDL Bus & Coach, which says that it's the only bus manufacturer that carries out its production exclusively in Western Europe. The new vehicles will be built by VDL Bus Roeselare.
"We are proud that we can supply to De Lijn and are confident our buses will make a very positive contribution to the sustainability and profitability of the De Lijn fleet,'' said Peter Wouters, Managing Director of VDL Bus Roeselare. "This order is therefore also very important for employment in Belgium."
The Citea SLE-120 hybrid is a 12m bus equipped with a serial hybrid system with a Stop & Go function. The concept is that the vehicles are modularly customisable to enable even longer journeys to be driven purely electrically. By using an inverted pantograph and a larger battery pack, electrical autonomy is further increased. The diesel vehicles are also 12m and will have Cummins ISB6.7E6C engines.
V.V.M. De Lijn is the Flemish public transport company, an autonomous public entity for the city and regional bus and tram services in Flanders. Committed to quality, customer-oriented public transport, it involves around 10,000 workers, approximately 8,000 of whom are directly employed. The remainder work for bus companies that provide service on behalf of it.