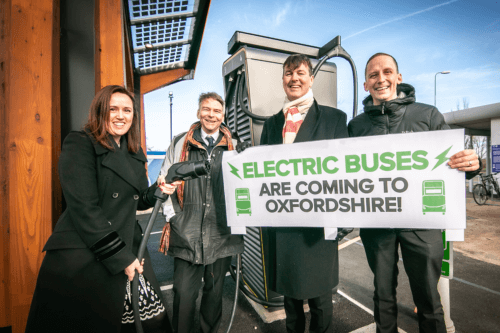 Stagecoach West and Oxford Bus Company have placed orders for for a new fleet of e-buses to operate bus services within the Oxford SmartZone area
The first of a fleet of 159 new battery-electric buses are set to arrive in Oxfordshire in September this year after an £82.5 million deal was sealed. In March 2022, Oxfordshire County Council was awarded £32.8 million from the Government's Zero Emission Bus Regional Areas (ZEBRA) scheme. Along with £6m from the council itself and £43.7m from bus companies Stagecoach and the Go-Ahead Group, which owns Oxford Bus Company, Thames Travel, and City Sightseeing Oxford, the funding will deliver the electric buses and their associated charging infrastructure.
Following the signing of contracts between the operators and manufacturers, and the council's approval of trial traffic filters in Oxford to help reduce bus journey times by at least 10% in the city, Oxfordshire's ZEBRA scheme has now been finalised.
Councillor Andrew Gant, Oxfordshire County Council's Cabinet Member for Highways Management, said the funding would be a huge boost in the move towards creating a sustainable, decarbonised public transport system, and improving air quality. "We believe that, along with other schemes proposed in the county, this new fleet of electric buses will transform our public transport system and encourage more people to travel by bus," he said.
Stagecoach
Rachel Geliamassi, Managing Director for Stagecoach West, added: "We're excited to be announcing this major milestone for Oxfordshire, which will be a major step forward in improving air quality across the region. This builds further on the major investment being made by Stagecoach across the country to support the transition to a zero-emission bus fleet.
"We look forward to working with our local authority partners on their plans to further decarbonise the city, which will help us to speed up journey times and attract more people out of their cars and on to reliable, sustainable public transport services."
Talking about the order and which routes the new buses will operate on, Rachel told CBW: "We're thrilled to have placed the first order for 55 Enviro400EVs from Alexander Dennis. The battery-electric double-deckers will be used on our Oxford city network within the Oxford SmartZone, on routes 1, 2/2A, 8, 10, 14/14A and 700.
"This will be a major step forward in improving air quality across the region and builds further on the investment made by Stagecoach across the country to support the transition to a zero-emission fleet."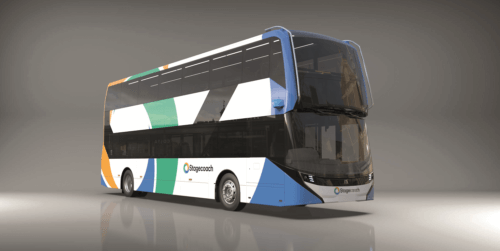 Stagecoach Engineering Director Sam Greer commented: "We're pleased to be continuing our commitment to move to a zero-emission UK bus fleet by becoming the first operator to make major investment in the new fleet of Enviro400EV buses to operate on our services in Oxford. We have a positive track record of working with Alexander Dennis to decarbonise our fleet across the country, including in Scotland where we will shortly be introducing the UK's first all-electric bus cities. We look forward to working with Alexander Dennis and our partners in Oxfordshire to roll out these new electric buses as part of the important plans to improve air quality in the region."
Commenting on the order, Alexander Dennis President & Managing Director Paul Davies said: "Our new Enviro400EV has been uncompromisingly designed to meet the requirements of bus operation in the UK, introducing latest advances in technology including our future-proof battery system while guaranteeing first-class aftermarket support throughout the vehicle's life with AD24.
"We are delighted to have our long-standing partner Stagecoach as the launch customer for the next generation of battery-electric buses, partnering with us to lead the future success of our bus and coach industry. This investment keeps funding from the Government's ZEBRA scheme in the country, improving the lives of passengers and residents as well as accelerating decarbonisation."
Go-Ahead
Oxford Bus Company has placed the order for its new vehicles with Wrightbus. Managing Director Luke Marion said: "This ground-breaking plan and significant investment will radically improve air quality in Oxford. We look forward to continuing to work with key partners to deliver this ambitious project, which will make bus travel an even better option for getting around our city."
Go-Ahead Group Chief Executive Christian Schreyer commented: "This is a step towards our goal of a zero-emission bus fleet nationwide by 2035. It's important to remember that decarbonising vehicles is only part of the challenge – we also need to encourage more people out of their cars and onto public transport. It's great to see Oxford taking progressive measures to prioritise buses over private cars."
Ben Werth, Chief Commercial Officer at Wrightbus, said: "We are, through this significant order, delighted to be working with Go-Ahead to further demonstrate their commitment to offering zero-emission public transport. It has been a real team effort between Wrightbus and the Oxford Bus Company to deliver this exciting project. All of the buses will be manufactured and assembled at our Ballymena factory, which means support for jobs in Northern Ireland, and wider across the UK through our domestic supply chain."
Roads Minister Richard Holden said of the orders: "We want to see a better bus network around Britain and that means reliable, affordable, clean buses, and we will do everything possible to decarbonise our transport network and support skilled jobs in next generation bus manufacturing across the UK. We've already invested hundreds of millions of pounds to kick-start the rollout of zero-emission buses nationwide, and it's great to see Oxfordshire County Council, Stagecoach and Go-Ahead Group making use of our funding to transform its fleet to electric. This move will boost UK manufacturing, drive down emissions and improve bus services for people across the region."
Oxfordshire was one of only 12 local authorities to successfully apply for ZEBRA funding and is one of the biggest schemes in the country. The order comprises:
Wrightbus GB Kite Electroliners for Oxford Bus Company;
8 open-top Wrightbus StreetDeck Electroliners for City Sightseeing Oxford;
55 Alexander Dennis Enviro400EVs for Stagecoach West;
83 low-height Wrightbus StreetDeck Electroliners for Oxford Bus Company.
All of the buses are expected to be delivered between September 2023 and March 2024.