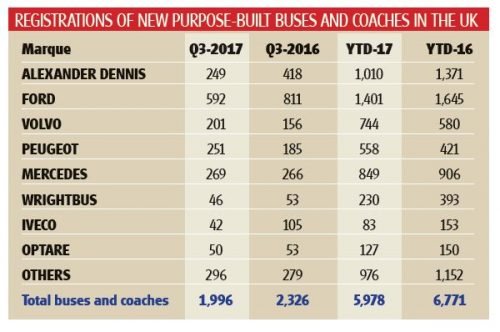 Registrations of new coaches and buses fell by 14.2% in the third quarter of 2017, according to figures released by the Society of Motor Manufacturers and Traders (SMMT).
The Society said it is the third time demand in the market has declined this year, with 1,996 units registered in the period.
Double-decker demand fell by 24.4% between July and September after a prolonged period of double-digit growth. Meanwhile, minibuses and single-deckers also experienced declines, down 11.1% and 13.6% respectively.
Year-to-date figures show overall registrations of coaches and buses in the first nine months of 2017 were down 11.7%.
Mike Hawes, SMMT Chief Executive, said: "After a sustained period of significant spending by UK bus and coach fleets, the market is now experiencing considerable decline.
"To encourage future long-term investment, operators must have both economic and regulatory certainty. This is especially important given the need to encourage the uptake of low emission Euro 6 diesels, hybrids and zero emission electric buses, which represent the fastest way to improve air quality in our towns and cities."