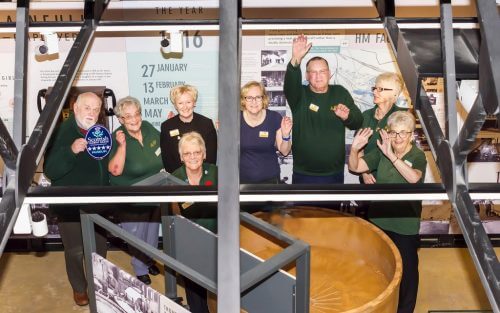 The Devil's Porridge museum on the Scotland/England border has retained the highest quality assurance accolade awarded by VisitScotland for another year.
Tucked away in the small town of Eastriggs, near Annan in South West Scotland, the museum is a stone's throw from the busy A75 Euro Route off the M74, just over the border from England and only 15 minutes from Carlisle.
Awarded five stars by VisitScotland's Quality Assurance scheme in 2016, Devil's Porridge has recently received its annual assessment and has remained one of Scotland's top rated museums and the only five star accredited museum in South West Scotland.
Paula Ward, VisitScotland Regional Director, said: "Congratulations to The Devil's Porridge Museum on the retention of their Five-Star QA award. Developed over the last four decades, VisitScotland's Quality Assurance (QA) schemes are world-leading and provide a trusted, independent and impartial source of information for visitors. Having businesses which place an emphasis on high quality further strengthens the tourism offering."
Devil's Porridge Museum portrays the lives of the 30,000 workers, including 12,000 women, who spent three years during WW1 tirelessly turning out the much-needed munitions for the troops on the front line.
Devil's Porridge describes the volatile and therefore highly dangerous mixture the workers 'cooked up.'
The museum is managed mainly by volunteers, 40 in total ranging from age 15 to 80. Chairman, Richard Brodie has been at the helm since the inception of the original museum back in 1996, housed within a local church, through to the modern purpose-built museum facility that now presents the original collection of artefacts along with audio and audio-visual displays that bring this story to life.
Richard said: "The enthusiasm and passion our volunteers have for this story ensures that we deliver a first-class visitor experience. The displays give visitors the opportunity to dip in and learn as much as they wish about the story of the Devil's Porridge but the volunteers, through their storytelling techniques will immediately ignite the imagination and help visitors visualise what it was like to live and work here."
The museum is open every day, all year round, with the exception of a three-week closure over Christmas. Admission is £5.50, with concessions for groups of under 20 people at £4.50pp and £4.00pp for larger groups. Booking far in advance is recommended, although enquires can be made up to the day before. Maximum group size is around 40 to 45 people, with a visit of 1.5 to two hours suggested.
Visit www.devilsporridge.org.uk for more information.