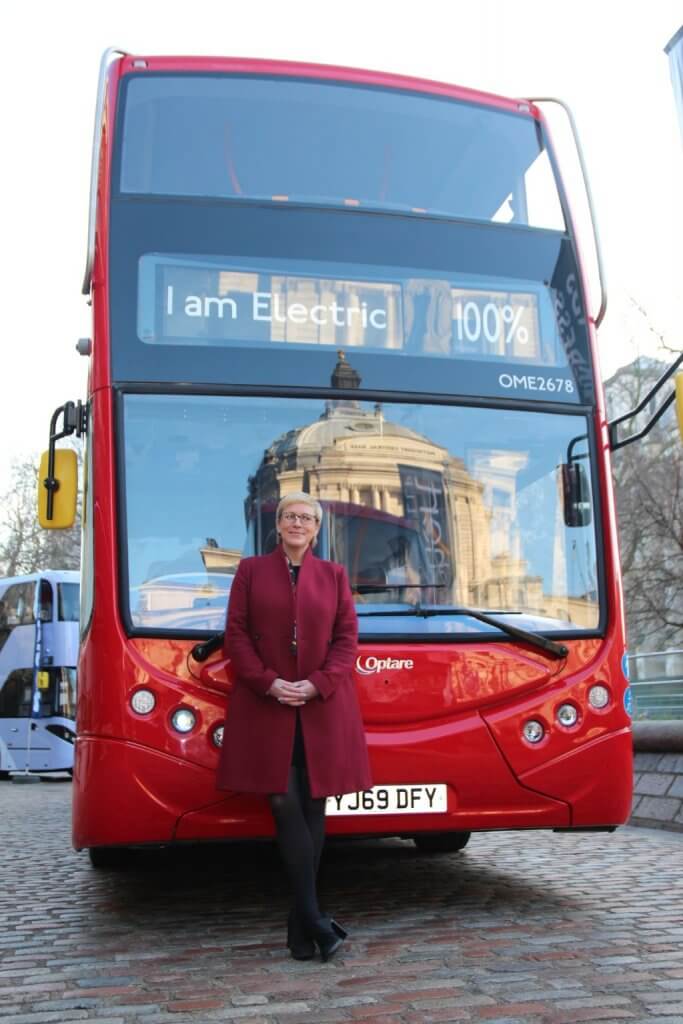 Details of how a £170m is to be spent also include funding for 'Superbus networks,' demand-responsive service trials and the support and restoration of existing networks
The Department for Transport (DfT) has announced how a £170m fund to encourage people to take up the bus is to be spent, which includes £50m to create the first fully electric bus town.
Announced by Buses Minister, Baroness Vere at the UK Bus Summit in Westminster, local authorities are being given the opportunity to bid for the electric town fund. Submissions opened on 6 February, and will close at the end of April. A shortlist of applicants will then be drawn to be considered, concluding in Autumn 2020.
Speaking at the UK Bus Summit, Baroness Vere said: "We know our discussions are focused on existing services and users, but we've got to try to attract new ones. Many people believe they could switch their car for the bus, but they choose not to because they believe bus travel does not fit their lives. We've got to change that.
"I think we can succeed in convincing people that buses are convenient, efficient and better for the environment. There's a great opportunity for us there."
Also part of the £170m is £20m to encourage the development and trial of on-demand ride sharing services, £30m to improve current bus routes and restore lost services and £70m for 'Superbus' networks. These networks, according to the DfT, will benefit from new low-fare, high frequency services, coupled with bus lanes and other priority measures. The first is expected to be introduced in Cornwall in early 2021.
Baroness Vere added: "I think this is a time for new beginnings. We have a new government which really is your number one fan. We have new ideas, a better offer for rural and suburban areas and new plans for a strategy in the future."
A partnership of Oxfordshire County Council, Oxford City Council, Stagecoach, the Oxford Bus Company and Arriva is already known to have submitted a funding bid for the all electric bus town fund. It is also applying for funding from the £20m pot for on-demand ride sharing services.
Phil Southall, Oxford Bus Company Managing Director, said: "We welcome this positive commitment from government as stronger bus networks are key to reducing congestion and emissions. We look forward to examining this opportunity with our local authorities and establishing whether we can unlock vital funding to support the vision for a cleaner Oxford via electric technology. Key to building a compelling business case for funding will be all stakeholders committing to improving journey times and growing patronage together."
Chris Coleman, Managing Director of Stagecoach Oxfordshire, added: "Buses have a key role to play in boosting the region's air quality, as well as addressing damaging congestion, growing our economy and bringing communities together. This is therefore an important opportunity for the key stakeholders in Oxford to work collaboratively to secure this funding."
Reacting to the funding announcement, Confederation of Passenger Transport Chief Executive, Graham Vidler, said: "This is excellent news for bus passengers. The announcement will mean more local authorities and operators working together to deliver real improvements for passengers.
"This funding must be the beginning, rather than the end, of transforming bus services across our country. To truly make an impact in connecting communities and tackling the climate emergency the forthcoming national bus strategy must have reducing congestion at its core to deliver the quicker journeys that will encourage people to leave their car at home and take the bus. Our target of a 20% increase in passenger numbers over the next decade will save two million tonnes of carbon from entering the atmosphere."
"We all need to build on today's announcement and ensure this opportunity is not squandered."
Claire Walters, Chief Executive of Bus Users UK, added: "Despite being the most used form of public transport, bus services have been decimated over the past few decades.
"Reliable and accessible bus services benefit everyone, and this announcement will certainly help to improve services. However, the only way to encourage more people on board and make buses the best choice in green transport is through bus prioritisation measures, and that has to be part of a wider, long-term bus strategy."