Diamond Bus has announced its entire fleet in the metropolitan area will have Euro VI engines by April 2021, in a move which will cut pollution by 95%.
A total of seven new Wrightbus Streetlite Micro Hybrid buses with engines cleaner than Euro VI standard are currently operating on the 226 Diamond service.
Cllr Ian Ward, leader of Birmingham City Council and WMCA portfolio holder for transport, said: "Poor air quality contributes to almost 1,500 premature deaths each year in the West Midlands.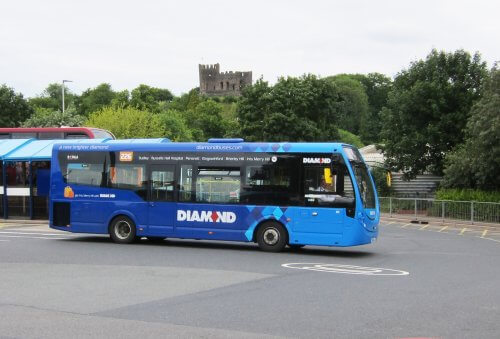 "It's great news that Diamond Bus has introduced new low-emission buses between Dudley and Merry Hill, improving the health and quality of life of passengers and local people who live nearby.
"This is taking us closer to our aim that every bus in the metropolitan area will exceed or meet Euro VI standards by April 2021."
Bob Baker, business director at Diamond Bus, said: "We are proud to be investing in these new, efficient 'Streetlite' vehicles, which offer great environmental benefits.
"Our parent company, Rotala Plc, has pledged an investment of over £4.8m into new green buses, to provide better journeys for passengers in the region.
"With part funding from the Government, this has enabled us to bring 44 new buses into service across the Midlands over the past eight months."
Part-funded by Department for Environment, Food and Rural Affairs (Defra) in a bid to reduce roadside air pollution. A further 350 Euro VI buses were also added to the West Midlands through Defra funding.
Transport for West Midlands (TfWM) part of WMCA, has also waived the fees it charges bus companies for using the region's bus stations and roadside passenger information for a year.
This move has given companies an extra £2.7m this year and this will see 360 more buses replaced or upgraded.
Read more news here: cbwmagazine.com/category/news