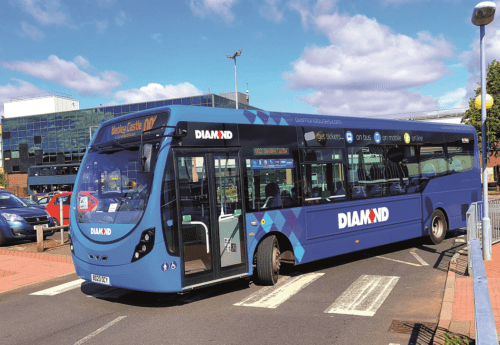 West Midlands based Diamond Bus says it is to review commercial services it operates in the area. The operator says that all of its current commercial routes in the Transport for West Midlands (TfWM) area are loss-making.
In a statement, the operator said: "Since Covid-19, we have been working in partnership with Transport for West Midlands in the hope that these services would recover. Since the end of August 2022 we have continued to sustain losses. The decline in viability of these routes is linked to the escalation in labour and operating costs and the lack of income growth. In January 2023, service revisions were put in place to try and align the income and expenditure of these routes and improve their viability.
This alignment has subsequently failed, and Diamond Bus has now reluctantly taken the decision to cancel our 002, 45 and 226 services from 15 April 2023. Through our partnership discussions, the long-established position was that 'Low Fare Zone' ticketing would be phased out and all fares would align to a consistent rate across the whole West Midlands region. In simple terms we were advised that the Sandwell & Dudley Low Fare Zone £3 Day Ticket would align to the current West Midlands £4 Day Ticket.
"This is now expected not to happen, which means these services will continue to lose money. Diamond Bus, has therefore been left with no choice but to de-register these heavily loss-making services. Diamond will continue to work with TfWM, as it assesses options to maintain service provision in those areas affected by these withdrawals and we will keep passengers updated with further details over the coming weeks."
The operator also advised that its discounted ticket offers available when purchasing tickets on the Diamond Bus app would end on Monday 13 February, from which date fares on-app would be the same price as tickets purchased on-board the bus.
"Diamond Bus app customers have benefited from discounted app ticket offers since 2021 and have been able to make some great savings on full ticket prices during this time. However, we are unable to continue extending these special offers at this time," the firm said.