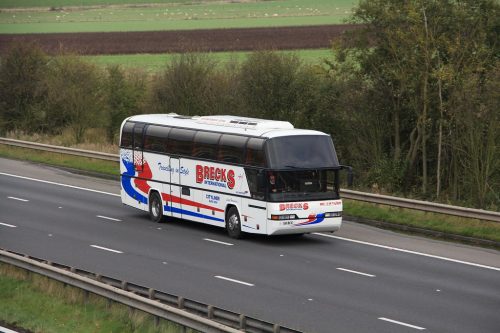 Stuart Ulph, proprietor of Rotherham-based Brecks International, has always set the highest standards for every aspect of his operation. After more than half a century in business, he's ready to retire and he shares some of his experiences over the years with Andy Izatt
"Finishing won't be easy, but I'm 75 years old this year," explained Stuart Ulph, proprietor of Rotherham-based Brecks International. "It was 1967 when I first started and I'm now in my 51st year of operation. The most vehicles I ever ran were 11, but I cut back quite a number of years ago. Now it's two coaches and four double-deckers.
"As you get older things seem to bother you more than when you're younger. There was a time when, if someone had rung on a Friday night and said, 'we want you to go to the other side of Europe and can you pick up in the morning,' I would have said, 'fine, no problem.' With age you start to think more about the implications of doing something like that.
"My wife, Sue keeps asking me when I'm going to pack it in, but I've not really wanted to. I've had a full-time driver, David Fox, who's been with me for 24 years. He should have retired last July, but I asked him to postpone until Christmas. When Christmas came I put my coaches, a Neoplan Starliner and Cityliner, up for sale.
"I've only had the Starliner a couple of years, but I'd always wanted one and I've spent a lot of money getting it into the right condition. If there's a switch on the dashboard, I make sure it works. It's what I drove while David had the Cityliner. […]
By subscribing you will benefit from:
Operator & Supplier Profiles
Face-to-Face Interviews
Lastest News
Test Drives and Reviews
Legal Updates
Route Focus
Industry Insider Opinions
Passenger Perspective
Vehicle Launches
and much more!