Driver uses initiative to a find regular passenger who had fallen the night before
A Carmarthenshire County Council driver has been praised for his quick-thinking actions after coming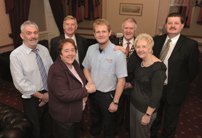 to the rescue of a man who had fallen at his home.
Social Care Transport driver Greg Arthur, of Llanelli, was on his daily travels collecting and transporting people to Tumble Luncheon Club when he realised something wasn't right after calling at the home of one of his regular passengers in the Gwendraeth Valley.
With several passengers already on his bus, the 34-year-old used his initiative to check the property and saw, through a rear window, the gentleman lying on the floor in a lot of pain.
He immediately called for the emergency services and spoke to the gentleman through the window to give him reassurance until help arrived.
In the meantime, he told his passengers they'd have a short wait until he got help for his friend, and closed the bus doors to keep them warm.
It later transpired the man had fallen the previous evening, and had suffered a broken leg and dislocated knee.
Now, Social Care Transport's youngest driver has been praised for his actions by Carmarthenshire County Council officers and members, and Llannon Community Council – which runs Tumble Luncheon Club.
"It was lucky I could see him through the window, otherwise I may have just presumed he was not home," said Greg. "I couldn't get into the house, but I talked to him through the window until the ambulance arrived and took him to Glangwili. I waited until his relatives arrived, and explained to them what had happened, and then I got back on the bus and carried on with the pick-ups.
"Some of the people were a bit annoyed at first when I was so late, but as soon as they knew what had happened they understood and were obviously concerned for their friend."
Cllr Pat Jones, executive board member for health and social care, said: "It is so fortunate Greg took the initiative to check the house and saw the gentleman had taken a fall. We are all very grateful for his quick-thinking actions, and the fact he took the time to care. We thank him, and congratulate him sincerely."