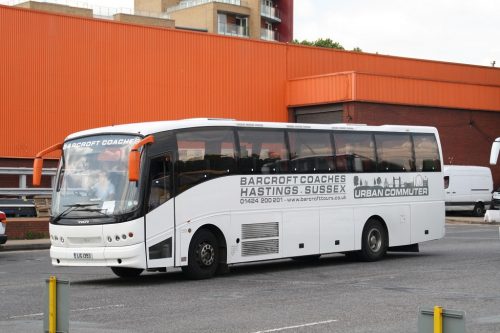 Barcroft Coaches' O-licence revoked, with director and transport manager both seeing disqualification
A coach driver has been disqualified from professional driving for four years after admitting that he falsified his records to get around safety rules.
Deputy Traffic Commissioner (DTC) for London and the South East of England, John Baker, made the order against Peter Warren's vocational driving licence after concluding that he had worked excessive hours for Barcrofts Coaches of St Leonards-on-Sea. On one occasion, he had been on duty for up to 22 hours.
In a written decision, the DTC said: "I have absolutely no doubt that [Mr Warren] cannot be trusted to operate in a compliant way.
"He carried out a series of fraudulent actions in relation to tachograph records over a period of months and compounded those actions by putting forward a number of different false explanations when interviewed.
"Even when he did admit the offences he attempted to minimise the seriousness by claiming no passengers were on board when he drove in excess of the daily duty hours permitted."
In one instance, a Driver and Vehicle Standards Agency (DVSA) inspector found that Mr Warren had started a journey at 0608hrs on September 19, 2015 in Hastings. He collected passengers from Eastbourne, Hastings and Ashford before travelling to Belgium for a shopping trip.
His driving records indicated that the journey concluded back in the UK at 2012hrs in Ashford. The vehicle then supposedly commenced its next journey at 0628hrs on September 20.
However, enquiries made with P & O Ferries revealed that the vehicle travelled from Calais on a ferry which departed at 2137hrs. ANPR cameras subsequently captured the vehicle on the M20 at 0041hrs on September 20.
The DVSA traffic examiner concluded that Mr Warren had falsified the tachograph record by removing the chart at 2012hrs while still in France, going on to make a false record that he had finished the journey in Ashford.
Upon actually arriving in Ashford, the examiner said Mr Warren had wound the tachograph clock forward to 0628hrs to record the next journey.
These actions meant that, according to the driving records available, Mr Warren had taken the legally required daily rest period of at least nine hours. However, given what the DVSA examiner uncovered, the maximum rest Mr Warren could have taken was far less – four hours and 14 minutes.
Mr Warren was prosecuted for six offences of using a false records outside of England or Wales and had a further 10 offences taken into consideration.
He was given 100 hours of community service for the first offence and no separate penalty for the remaining five.
In his written decision, the DTC criticised Mr Warren's level of dishonesty with both DVSA and his inquiry. When vehicle maintenance records were discussed at the hearing, Mr Warren first claimed all safety inspections were carried out by a contractor. However, the DTC noted that his signature was on many of the documents.
Mr Warren admitted that he had done about 50% of the inspections.
Mr Baker also took action against the person named on the operator's licence – Catherine Barcroft – even though he concluded she was not ultimately in control of the business.
Revoking her licence to operate coaches and disqualifying her for a year (with effect from December 1), he said: "I believe she was unaware of the extent of the fraud carried out by Mr Warren and the transport manager, but that in itself highlights a further issue.
"If she was the operator she should have made it her business to check that the transport arrangements were as they should be and compliance was a reality.
"There is no evidence to suggest she did any of this."
John Crosbie-Barcroft, who acted as transport manager for the business, was also disqualified from acting in that role indefinitely and disqualified from driving professionally for one year, with effect from December 1.
The Deputy Traffic Commissioner said: "Mr Crosbie-Barcroft was not only aware of at least some of the fraud carried out by Mr Warren, but committed similar frauds himself on two occasions. In relation to his own hours, he claimed that another driver had taken over from him and he could not remember who this was when interviewed, yet came up with a name at inquiry.
"His explanation was not credible and I therefore do not accept it."