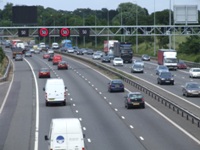 Figures show 250 vehicles per day use the hard shoulder illegally
A pilot scheme aimed at reducing the number of vehicles illegally using the hard shoulder on Midlands motorways could see drivers warned or even fined for their conduct.
In the area of the M6 and M42 covered by managed motorway schemes ? which sees the hard shoulder become a live traffic lane to reduce congestion at peak times ? the Highways Agency displays overhead signs informing drivers that the lane is active, and what the current speed limit is.
The scheme also informs drivers, with a red X, when a lane is out of use due to an obstruction or safety issue.
Research shows that managed motorways work to reduce congestion, make journey times easier to predict, and that the hard shoulder can be safely used as a traffic lane – evidence from the M42 shows accidents more than halved. However, in order for managed motorways to work, it is important drivers obey the law, drive safely and follow the signs clearly displayed.
During a month's worth of monitoring (June 2012) of the M42 and M6 managed motorway sections, the average daily misuse of the hard shoulder was between 20 and 100 vehicles per day. On three of the busiest motorway links across the West Midlands, figures show an average of 250 vehicles per day illegally using the hard shoulder. Most of this non-compliance was just before the hard shoulder opened to traffic for the peak periods or just after it had been closed.
Authorities want to see these figures drastically reduce and road users complying with the law. As part of a pilot scheme to increase good driver behaviour, from September, the police will be proactively monitoring drivers in the region. Any drivers misusing the hard shoulder will initially receive a joint letter from police and the Highways Agency, along with an educational leaflet clearly explaining the correct use of the hard shoulder.
Repeat offenders could also find themselves facing a fine and points on their licence, as driving on the hard shoulder is illegal, as well as unsafe.
The launch is being marked by an inside view of the work of CMPG across social media. Across the @WMPolice and @CMPG Twitter accounts followers can see the work undertaken by the group ? covering over 400 miles of the Midlands motorway network. Twitter: @CMPG W: www.westmidlands.police.uk/cmpg