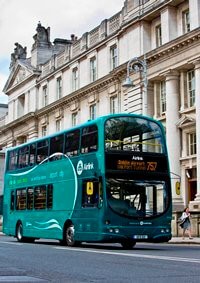 Dublin Bus has launched a new Airlink route serving the south side of the Irish Capital.
The new 757 service takes a direct route via the Port Tunnel and serves busy tourist, business and residential areas including St Stephens Green, Merrion Square, the Docklands (Silicon Dock) and the IFSC. The service begins at 0500hrs and runs through to 0015hrs. Dublin Bus expects the route to carry 400,000 passengers each year.
Speaking about the launch of the new Airlink route, Dublin Bus CEO Ray Coyne said: "Recent years have seen a strong performance by our Commercial Services Division with Airlink passenger numbers up by 11% to 1.5 million in 2015.
"We strive to provide the best services for our customers and have set internal Airlink business projections of 100% revenue growth by 2020. Airlink offers customers an affordable and quick transport link to Dublin Airport and the addition of this new route serving the south of the city will further enhance the service."