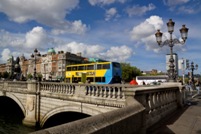 The Harristown depot of Dublin Bus is the first Irish site to gain IRTE (Institute of Road Transport Engineers) Workshop Accreditation, an independent scheme that aims to raise industry-wide standards in vehicle maintenance.
Donnybrook, Clontarf, Phibsboro, Ringsend and Summerhill depots have since gained the accreditation, with plans for the Conyngham Road depot to undergo an audit in the next few weeks.
Company Health and Safety Manager, James McHugh said: "We had been looking for an external means of benchmarking our maintenance systems and procedures against that of industry best practice, and this seemed like a logical way forward.
"The audit was comprehensive, well-structured and covered the various requirements in some detail. Like any audit however, it was viewed as another opportunity for further improving what we already had.
"In considering that operator premises inspections by the Road Safety Authority will now be introduced in late 2013 under the Commercial Vehicle Roadworthiness Act 2012, this type of audit could prove useful for any operators who may have concerns over compliance."
Ian Chisholm, Head of Operations & Communications at IRTE's umbrella organisation, SOE (Society of Operations Engineers), said: "By being the first to gain IRTE Workshop Accreditation in the Republic of Ireland, Dublin Bus is leading the way in responsible vehicle maintenance provision.
"Vehicle maintenance has a serious impact on road safety and compliance, and the fact that Dublin Bus customers can now be absolutely confident in the level of maintenance carried out on their public service vehicles is a significant step forward for the road transport industry in the Republic of Ireland."