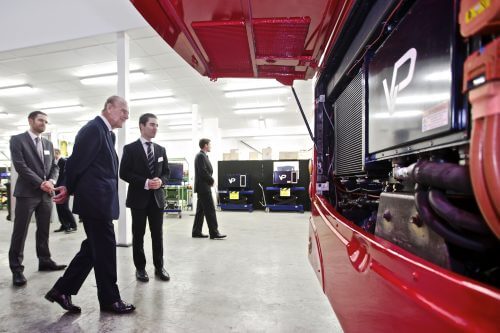 Visit marks first retrofit hybrids for the London market, with six buses entering service in the near future
On Monday February 20, 2017, His Royal Highness The Duke of Edinburgh visited Vantage Power to tour the facility and attend a reception to celebrate the introduction of London's first retrofitted hybrid buses.
Touring VP's facilities in Greenford, the Duke demonstrated his enthusiasm for Vantage Power and its technology, not least because he was one of the first to pioneer the use of eco/electric technology, driving an electric car in the 1960s and owning an eco-friendly Metrocab.
His Royal Highness took the time to individually meet and talk to team members and other guests, which included Leon Daniels, Managing Director for Surface Transport at Transport for London, and senior representatives from Vantage Power's first three customers; Go-Ahead London, Arriva London and London United.
The first six buses retrofitted with Vantage Power's B320 hybrid system are due to enter service in the coming weeks.
Vantage Power designs and manufactures hybrid powertrains for bus OEMs and as a retrofit solution for buses already on the road. This enables operators to reduce their fuel consumption and emissions, which the company said comes at a fraction of the cost of purchasing new hybrid buses, and with a short payback period.
Vantage Power said that by designing the whole hybrid system – everything between the fuel tank and the wheels – optimal performance of every component is ensured, resulting in up to 40% lower fuel consumption, 92% lower NOx emissions, and greater connectivity than any other system.
Coming with remote telemetry as standard, customers get live performance data enabling enhanced fleet management, maintenance, fuel economy and emissions.