Stagecoach has moved a step closer to gaining a new owner, with DWS Infrastructure now the only company in the running
On 9 March 2022, the boards of DWS Infrastructure subsidiary Inframobility Bidco Limited (PEIF III Bidco) and Stagecoach Group announced that they had reached agreement on the terms of a recommended all cash offer for Stagecoach.
On the evening of Friday 20 May, PEIF III Bidco, a company indirectly wholly owned by Pan-European Infrastructure III, an infrastructure fund managed and advised by DWS Infrastructure, announced that the offer had become unconditional. This occurs once the bidder has received sufficient acceptances from the shareholders of the target company, essentially meaning that the shareholders of the target company have agreed to sell to the bidder.
Hamish Mackenzie, Head of Infrastructure at DWS, said: "We are delighted that our acceptance condition has now been satisfied and our offer has now been declared unconditional. Our offer provides immediate value for Stagecoach shareholders and paves the way for the Stagecoach team to deliver enhanced services for passengers and communities across the UK."
Level of acceptances
By 1630hrs on 20 May, valid acceptances of the offer had been received in respect of 270,222,325 Stagecoach shares, representing approximately 49% of the issued share capital and including acceptances received in respect of 57,661,967 Stagecoach shares (10.46%) which were subject to an irrevocable commitment procured by PEIF III Bidco. A Stagecoach Group spokesperson said: "We are pleased that shareholder acceptances have reached the required threshold to make the DWS Infrastructure offer unconditional. This is a positive step for our company, our people, our investors, and wider stakeholders, and we see a bright and strong future ahead for both Stagecoach and public transport as we move towards new ownership."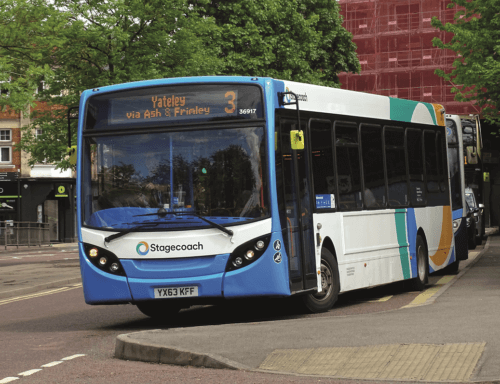 megabus
Whilst the situation surround the acquisition of the core Stagecoach business has become clear, there are still uncertainties around where the intercity coach network of megabus stands. A Stagecoach spokesperson commented: "We announced the planned sale of our inter-city coach retail businesses to ComfortDelGro in the context of the planned combination with National Express. The sale of those businesses has been on hold as part of the CMA's consideration of competition matters around that proposal.
"The Stagecoach Board has since confirmed it was recommending the DWS Infrastructure proposal and we said we would review plans for the inter-city coach businesses in due course. We are in discussions with ComfortDelGro about these matters now that the DWS Infrastructure proposal has gone unconditional."
Should the original £8.75 million deal with ComfortDelGro go ahead, it would become the United Kingdom's second largest inter-city coach operator. As part of two agreements, ComfortDelGro will acquire Stagecoach's remaining 35% stake in Scottish Citylink Coaches, turning it into a wholly-owned subsidiary. Scottish Citylink, which became a 65%-owned subsidiary of ComfortDelGro in 2005, operates 19 long-distance express services within Scotland, linking the seven cities as well as some rural Highland communities.
Concurrently, as part of the deal, the ComfortDelGro Group will also acquire the marketing, retail and customer service activities of Stagecoach's megabus UK coach business and the Falcon coach service which operates in the south west of England. Speaking at the time of the original announcement in December 2021, ComfortDelGro Managing Director and Group CEO Yang Ban Seng said: "The Scottish Citylink, megabus and Falcon acquisitions provide us with an excellent platform to further grow our coach business in the UK. We intend to leverage the experience we have gained in our existing operations to roll out new and innovative services for our passengers in England, Wales and Scotland as we position ourselves for post-covid recovery. We will continue to look at opportunities to grow our businesses in the UK, which remains one of our most significant investment destinations."
In the months that have passed since the deal was first announced, ComftDelGro's Adventure Travel's coach division Adventure Coachlines has secured megabus contracts on the Newport-Bristol-London corridor.
National Express
Immediately following Stagecoach announcement in regards to the offer, National Express said: "The Board of National Express notes the announcement by DWS that its offer for Stagecoach is now unconditional. As such, National Express confirms that the all-share combination with Stagecoach has now lapsed.
"The Board of National Express looks forward to continuing to execute its Evolve Strategy as a stand-alone business, with a differentiated position in the sector driven by: a uniquely diversified and balanced international portfolio, leading positions and high market share in attractive and growing international markets; and significant opportunities to compound growth through organic and inorganic expansion and multi-modal in-market consolidation, in particular in its North American and ALSA businesses.
"The National Express Board has full conviction its stand-alone targets of at least £1 billion of revenue growth from 2022 to 2027; at least £100 million of profit growth from 2022 to 2027, with an operating profit margin averaging around 9% over the coming years; and at least £1.25 billion of free cash between 2022 and 2027 inclusive, with average cash conversion over 80%.
"As set out in its trading statement on 26 April 2022, the business has made an encouraging start to the year, with revenue recovering to 2019 levels and improving through the first quarter. Looking ahead, we anticipate a further recovery in demand over the balance of the year."
The DWS offer
The DWS Offer remains open for acceptance until further notice for Stagecoach shareholders that have yet to accept it. PEIF III Bidco has advised shareholders that if it acquires shares of 75% of the voting rights of Stagecoach it will apply to the London Stock Exchange for a cancellation of trading in Stagecoach shares and a de-listing, which would mean that existing Stagecoach shareholders that have not accepted its offer cannot be guaranteed to be able to sell their shares on, or be paid out any dividends. Should the PEIF III Bidco offer reach an acceptance of 90% of Stagecoach shares, or otherwise acquires 90% or more of the Stagecoach shares to which the Offer relates, it intends to exercise its rights to acquire compulsorily the remaining Stagecoach shares in respect of which the offer has not been accepted.