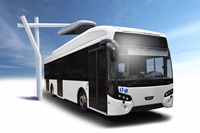 GERMANY This year, for the first time, VDL Bus & Coach took part in InnoTrans, held in Berlin from September 20-23 where it exhibited its zero emission public transport solutions.
In recent years VDL has focused on the e-mobility public transport market, including various projects in Germany. The Citea Electric has been tested extensively in several cities for long periods, and this has provided valuable practical information on the use of electric bus systems in urban areas. The results have made it possible to go a step further enabling the manufacture of quantities of electric buses.
Eight Citea SLFA Electrics have been delivered to KVB (Kölner Verkehrs-Betriebe), Cologne's public transport company making it one of the first companies in Germany to introduce electric mobility for an entire bus route.
Five Citea SLF Electrics have gone to Stadtwerke Münster. One was delivered within the framework of the SEB project (rapid charging system for electric buses in public transport), subsidized by the German BMBF (Ministry of Education and Research). The other four are part of the ZeEUS project (Zero Emission Urban Bus System) funded by the European Commission and coordinated by the UITP.
Forty-three Citea SLFA Electrics have been ordered for the Zuidoost-Brabant concession in Holland where they will join one of Europe's largest zero emission bus fleets.