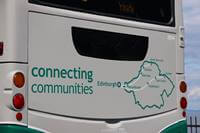 Lothian Buses-owned East Coast Buses has announced the timetable and fares information for its new services, which commence on Sunday, August 14.
The company will operate two main services connecting North Berwick with Musselburgh and Edinburgh and Dunbar, via Haddington.
Fares will be based on a zonal system, with the operator offering single fares and three Dayticket options for passengers. These are: the County Day Ticket, allowing unlimited travel across the network, excluding the city zone, for £5; the CountyPLUS Day Ticket, allowing unlimited travel across East Coast Buses in all zones for £7.50; and the Network Day Ticket, allowing East Coast Buses passenger's access to all Lothian Buses day services, Airlink and Edinburgh Tram services for £9 per day.
The East Coast Buses team will be holding special events across the new network, showcasing its new vehicles and to give information on the new routes, timetables and fares prior to commencing operational service.
Roadshows will take place on Saturday, August 6 in Haddington and Dunbar and on Saturday, August 13 in North Berwick. Customers attending the events will be given a free day ticket for use on the East Coast Buses routes.
Richard Hall, Managing Director of Lothian Buses, said: "These new routes will ensure that residents, workers and businesses across East Lothian will continue to enjoy reliable transport links that support their daily travel needs.
"We are looking forward to welcoming members of local communities aboard on the launch date and to becoming an important part of the local economy, as well as attracting new customers to the network of services that we will be providing across East Lothian and into Edinburgh."
Iain Gray, MSP For East Lothian, said: "I am very pleased to welcome East Coast Buses' new services to East Lothian.
"Their initiative has secured bus services vital to many of our towns and villages, but also saved dozens of jobs and the depots in Musselburgh and North Berwick.
"The last time Lothian Buses stepped in when another operator walked away from the County they introduced the 113 service which has just been voted best in Scotland, so I think my constituents have every reason to look forward to enjoying a reliable, responsive, high quality service from East Coast Buses."
Humza Yousaf, Minister for Transport and the Islands, said: "The forthcoming start of East Coast Buses operations is great for local communities in terms of securing employment prospects and the ongoing provision of vital bus services.
"This is a good news story and I also welcome the announcement of the new timetable and the use of environmentally friendly buses."
Lothian Buses has also announced changes to the Lothian Country Buses services 104 and 113, which also go live on August 14.
Service 104 will operate a revised route and timetable seven days a week with journeys extended in Haddington to serve Amisfield Park. Some journeys on this service will now terminate at Wallyford (Fa'side).
Service 113 will have a revised timetable on all days with some journeys starting or finishing at Musselburgh Police Station instead of King's Road. The operator will also be adding an extra Monday to Friday morning journey at 0805hrs from Brunstane to the Western General Hospital.