Passenger has launched the new East Yorkshire website, built on its Passenger Cloud digital service platform.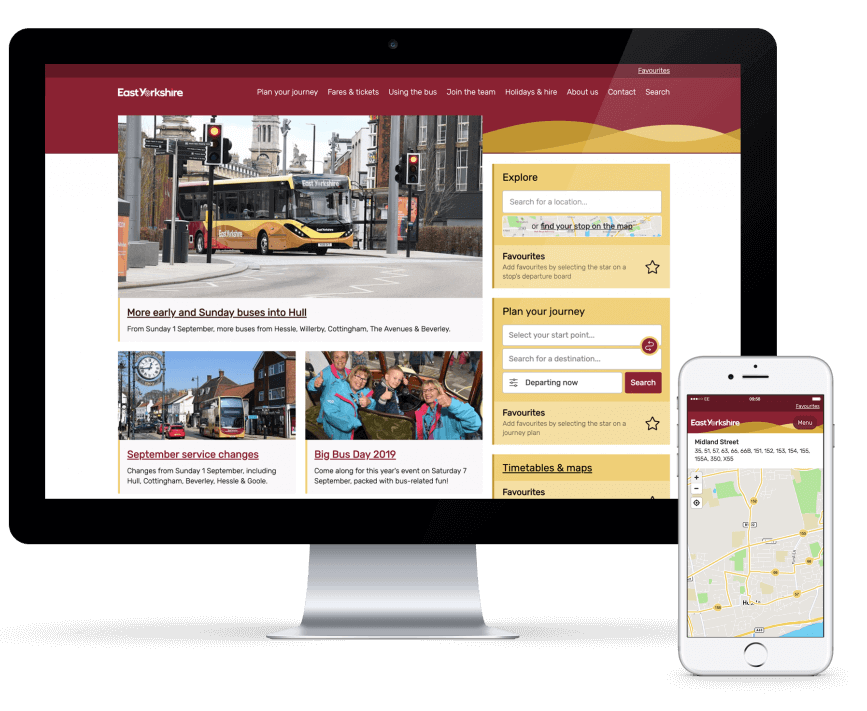 East Yorkshire commissioned the website following the consistently strong performance of its Passenger apps over the last two years. The apps are rated 4.8* average ratings across iOS and Android devices, making them some of the highest-rated bus apps on the market.
As well as providing all the features passengers use every day within the mobile apps, the new website is already saving East Yorkshire's marketing and commercial teams plenty of time. Using the same data feeds as the apps, the team now only needs to manage service changes, disruption information and content updates once.
The addition of Passenger's Live Buses module, to both the new website and existing apps, is already giving customers the confidence of knowing where their bus is and when it's going to arrive.
The new website is the latest step in the company's rebrand, which began earlier this year led by Best Impressions. The rebrand has seen the operator become 'East Yorkshire' from East Yorkshire Motor Services, along with a £6m investment into 27 new low-emission buses.
Claire Robinson, Marketing Manager at East Yorkshire, said: "We were really pleased with how the development of our new website went and how we managed to produce and launch a full site in a relatively short period of time.
"The support we received from the team at Passenger was fantastic, making the full process run smoothly. Regular, scheduled calls kept everything on track, with actions and requests being dealt with promptly, even on things which we thought might be a big job."
The new website also makes East Yorkshire the latest bus company in the UK to release open data ahead of the Department for Transport's open data regulations, the first of which come into force in January 2020.
A dedicated site for bus enthusiasts is currently under development.
The new website can be found at www.eastyorkshirebuses.co.uk.