easyCoach has announced that its buses will serve Wrexham and the surrounding area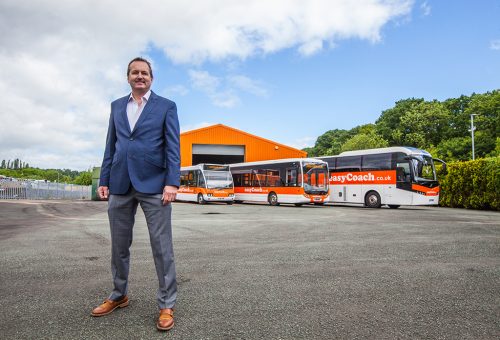 From Wednesday June 27, easyCoach's buses will serve Wrexham and the surrounding area.
Founder Andrew Martin said: "The Wrexham bus network has fared badly recently, with the closure of two out of three major operators since 2016.
"Having just one dominant operator isn't great for the consumer, so we saw an opening for an innovative brand that would bring a breath of fresh air to the town.
"We guarantee fares will always be lower than our main competitor's, giving customers more bang for their buck."
easyCoach launched with four main services. These include: Route 2, which operates from Oswestry to Wrexham, the 2D Wrexham to Cefn-Mawr, and working in tandem, both easyCoach routes will deliver a service from Plas Madoc to Wrexham bus station, via Ruabon and Johnstown, every 15 minutes.
easyCoach will also reinstate the Wrexham to Wrexham Industrial Estate bus, operating as route 42. easyCoach's new route 44 will also offer a service from Wrexham to Barker's Lane at 30-minute intervals.
Andrew commented: "Getting out of town to the industrial estate, as well as getting into town from residential areas, has been extremely difficult for anyone without a car. EasyCoach is set to change that."
easyCoach claims it will also make it simpler and cheaper to get from Wrexham to both Liverpool and Manchester Airports.
Andrew explained: "We already run easyBus airport shuttles from Wrexham. Anyone with an easyBus ticket to the airport can now travel for free on an easyCoach into Wrexham bus station, and then it's a simple change for the airport service.
"This won't just save money, but also means more convenience for passengers and fewer cars on the road.
"The philosophy of easyGroup is very much about taking on the big boys.
"We know from feedback in Wrexham that passengers feel they deserve more, and through cheaper fares and better service, easyCoach is well-placed to provide it.
"We're a UK company and proud to be investing in the local community. Although we're focusing on Wrexham right now, we're identifying other areas where we could potentially roll out the brand."
Cllr David A Bithell, Lead Member for Environment and Transport at Wrexham Council, said: "The bus industry more recently has seen significant decline and welcomed new services and companies to Wrexham."
He added: "EasyCoach has moved its depot to Wrexham from Shrewsbury which also provides new jobs and a boost to the local economy. Wrexham Council wishes the new venture a success."