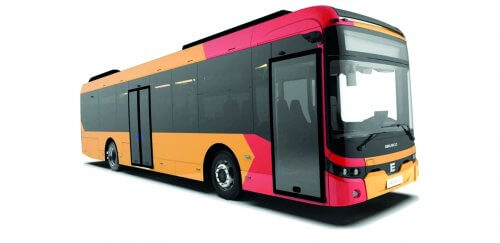 Dutch manufacturer of electric buses Ebusco was founded 11 years ago by Peter Bijvelds when electric vehicles still had a long way to go to become a mainstream option in Europe. The firm has since taken orders for buses from across the continent, and recently announced its latest order from Denmark, the second this year from the country, for two Ebusco 2.2 regional and city buses for Holbaek. The buses will be delivered in October 2021 to operator Ditobus Linjetrafik as part of its aim to be as carbon neutral as possible. With a 432 kWh battery, the two-door, 80-passenger buses are expected to have a range of 300km.
Ebusco Founder Peter said that the seeds for the company were sown while he was on a holiday in China where he noticed a high number of electric buses already in use, and how far ahead the country was when it comes to electric transport. In 2010 the idea of Ebusco was born, as a start-up company in a niche market that did not yet quite exist. In 2012, two years after the project phase started, Ebusco BV was founded because the business model was deemed to be successful.
In 2016 ING became a shareholder in Ebusco, giving new opportunities for growth. "In the Netherlands, leasing is what keeps the bus industry going. Electromobility is comparatively capital intense and poor margins and the ever-increasing digitalisation have changed the market," Peter explained, many Dutch operators having switched to leasing of buses.
After the first prototype in 2012 Ebusco started developing its product. In 2016 the company took its first order: 10 buses for Qbuzz in the Netherlands. Two years later, that operator took another 37. In 2019 the manufacturer saw its largest order of electric buses, with 156 of the type going to Transdev. As recently as 2018 Ebusco still only had around 40 employees, a figure which has grown to almost 200 in 2021.
As the marketplace has expanded, the firm introduced its 3.0 model, which it says will be 'revolutionary' with 33% less weight, a longer life cycle, and a longer range and promises a best in class TCO (Total Cost of Ownership).
Ebusco uses a variety of familiar suppliers, including Happich, which supplies USB sockets, Continental for the dashboard, axles from ZF, Kiel seating, Ventura doors, and the heat pump by Aurora. The buses are assembled in China by partner FTBCI before being transported to Deurne where the final 30% of the build process is done. The company plans that in future all Ebusco buses will be built in the Netherlands, which is already the case for the forthcoming 3.0.