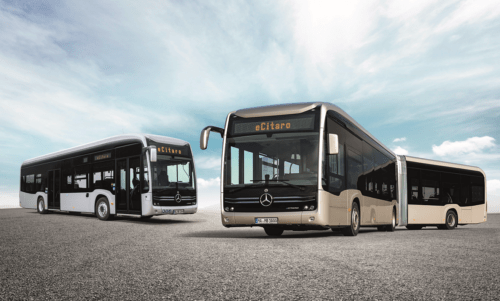 GERMANY
The Mercedes-Benz eCitaro has reached a milestone, with more than 1,000 rolling off the production line in Mannheim since the start of series production at the end of 2018, with large orders from cities such as Hamburg, Dresden, Bremen, Wiesbaden and Mannheim as well as from operators in France, Italy, Sweden, Poland, Austria, Switzerland and other European countries also putting their trust in the German electric bus.
"The Mercedes-Benz eCitaro is a permanent fixture in electromobility for city buses," said Mirko Sgodda, Head of Marketing, Sales & Customer Services at Daimler Buses. "It is safe, reliable and economical to operate. With its novel modern design, it also shows how elegant electromobility can be. And by having been embedded in the electromobility system, the eCitaro unfolds to its full potential. On request, customers are provided with support in the transition to electromobility with turnkey solutions from a single source consisting of electric buses, charging infrastructure and depot management."
The eCitaro was initially launched as a single-deck bus with a battery capacity of up to 243kWh in 2018, promising to be the electric successor to the hugely successful Citaro range which was launched in 1997 and has sold over 55,000 examples worldwide. Engineering solutions including a new innovative thermal management system have reduced the energy needed for heating, ventilation and air conditioning by around 40% compared to the internal combustion engine Citaro, says Daimler Buses, helping to give the eCitaro a practical range.
Ongoing development of the eCitaro has seen opportunity charging introduced as an option, and a second battery generation, extending the driving range without increasing the weight and opening the way for the successful eCitaro G articulated bus, which was launched into the market in mid-2020. The end of 2022 was marked by the introduction of the third generation of high-performance lithium-ion batteries, which Daimler says increase the capacity of the battery cells by 50% for the same weight, allowing driving ranges of up to 280 kilometres. In June, a version with a fuel cell for extended driving range was introduced.