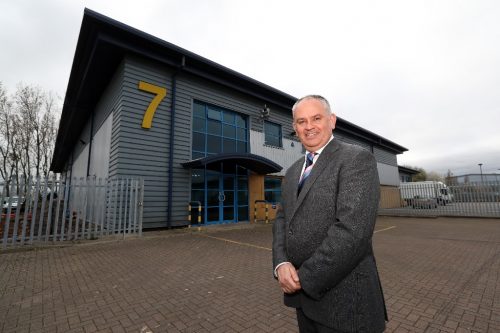 New depot under construction, with new £12m fleet expected and 120 new jobs to be created
Pontypridd-based Edwards Coaches is establishing a new depot in Avonmouth, Bristol, after a major National Express contract win.
The company estimated that up to 120 new jobs are being created and a brand new multi-million pound depot is under construction. Recruitment for the jobs has already started.
National Express awarded a 10 year contract to the coach company to run its services in the south west of England.
Edwards is seeking to recruit a hundred drivers as well as five engineers, five supervisors, five customer service personnel and five administrative staff. Work on the Cabot Park depot is well underway and the first of a new £12m fleet of National Express Caetano coaches will roll out from the site on its first day of operations on Monday, May 1.
Once completed, the depot is expected to feature engineering workshop facilities, a fully automated coach wash, re-fuelling facilities, offices and parking.
Coaches will run across the south west, to London and Gatwick Airport, and as far north as Grimsby and Nottingham and Rugby.
Jason Edwards said: "It is no secret Bristol is one of the best cities in the UK and it's really exciting to be establishing a base here.
"The whole team is champing at the bit to get started. It's particularly fantastic to be in a position where we are looking for so many new staff and there's going to be a real buzz at the new depot because everyone will be joining the family all at the same time. "It's a really great opportunity to get in on a successful venture from day one and, for the driving roles, to get behind the wheel of the highest specification vehicles in the industry. We can't wait to welcome people on board."
National Express UK Coach Managing Director, Chris Hardy, added: "The new Avonmouth depot anchors us to Bristol and supports the creation of a range of new jobs from drivers, to engineers and support staff, which is incredibly exciting.
"With multi-million investment into our customer experience and our people, there's never been a more exciting time to be part of National Express."
Cllr Mark Bradshaw, Bristol City Council's Member for Transport, welcomed the news and met with Edwards Director Jason Edwards, Transport Supervisor George Gaydon – the first employee appointed – and Service Operations Manager Stewart Isaac, to discuss the new site. He said: "I'm pleased to see this investment in Bristol."