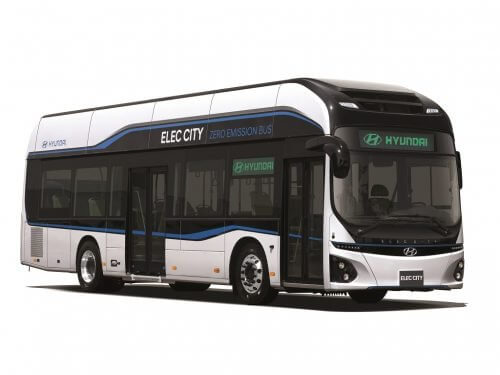 South Korean manufacturer reveals electric city bus with 180-mile range
SOUTH KOREA Hyundai Motor has a track record of developing alternatively-fuelled commercial vehicles, with research and development into hybrid, electric and fuel cell technology starting in 1999. This led it to produce the Blue-City in 2013, the world's first Compressed Natural Gas (CNG) hybrid bus.
Since 2015, Hyundai Motor says it has accelerated its research and development of electric and fuel cell buses and Elec City is its first mass-produced electric bus. Alongside its production, the company plans to launch the third generation of its fuel cell bus in 2018, having shown the first-generation vehicle at the 2006 FIFA World Cup in Germany.
Yeongduck Tak, Senior Vice President, Head of Commercial Vehicle R&D Division said: "Hyundai Motor has achieved a lot in the eco-friendly vehicle field, but we will never stand still.
"We continue to invest heavily to ensure zero-emission technology for all commercial vehicles."
On the road, Elec City boasts a best-in-class driving range says its manufacturer. With a 256kwh lithium-ion polymer battery, it can drive 290km (180 miles) on a single charge. Furthermore, it features a variety of safety- and human-centered facilities, such as Around View Monitoring and a Full Color Digital Cluster.
Hyundai Motor's commercial vehicle commitments reach around 130 countries and the company aims to sell more than 105,000 commercial vehicles globally this year.