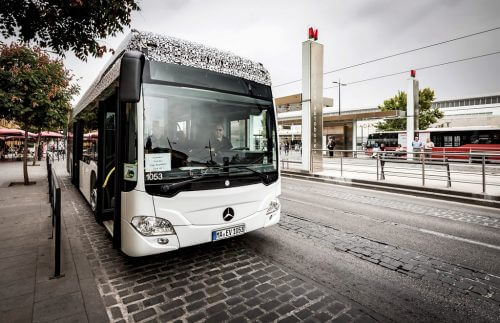 Mercedes-Benz has announced that it will be starting series production of a city bus with all-electric drive system based on the Mercedes-Benz Citaro towards the end of 2018.
Hartmut Schick, Head of Daimler Buses, said: "Our city bus produces zero local emissions and is ultra-quiet through town.
"The engineers are currently undertaking thorough testing of prototypes of the new bus under the toughest of conditions. As the technical concept, which involves a modular system for the power supply as well as optimised thermal management, makes clear: the Citaro with battery-electric drive will set a new milestone."
The all-electric Citaro will use lithium-ion batteries, and the modular design of the battery pack means that individually customised vehicles can be devised to match a wide range of applications and requirements from bus operators.
As well as the possibility of charging it from a power socket at the depot, Mercedes-Benz can also, as an option, supply the Citaro with one of a range of intermediate recharging options.
The manufacturer said one of the features of the electric Citaro will be the thermal management of its drive and climate control systems. It claims this thermal management reduces energy consumption significantly and is tantamount to extending the range of the bus without changing the size of battery.
The Citaro is currently being put through the same cycle of trials and testing to which every other bus built by Mercedes-Benz is subjected. Prototypes have already successfully undergone initial winter testing in low temperatures at the Arctic circle as well as summer testing in the heat of Spain's Sierra Nevada. Endurance testing and detailed refinements will now follow.
Mercedes-Benz aims to start production of a series-production urban bus in the autumn of next year, with a launch in September 2018 at the IAA Commercial Vehicles show in Hanover.