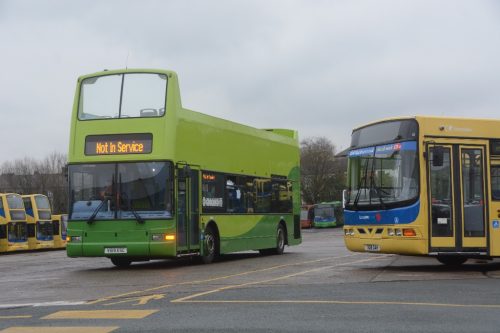 Five former Lothian Buses Tridents to receive Magtec electric drivetrains for York Sightseeing work.

Transdev Blazefield (TB) has bought five Plaxton President-bodied Dennis Tridents from Lothian Buses for its City Sightseeing tour in York, enabling it to leave the existing fleet of open and part open top double-deckers intact while conversion of the operation to electric propulsion takes place.
Three of the Lothian buses are fully open top, the remaining two part open top. All five are receiving Magtec electric drives so they can operate alongside the UK's first electric double-decker, a part open top East Lancs-bodied Dennis Trident that was converted by Magtec two years ago.
City of York Council was awarded £75,433 from the Department for Transport's Clean Vehicle Technology Fund to cover the cost of converting the original bus. Another £475,760 (£95,152 per bus) from the same fund was later secured to cover the other five. All six are being upgraded to comply with the Disability Discrimination Act (DDA) by TB's Blackburn depot-based Engineering Support Unit which has already converted two diesel-powered York sightseeing Tridents that are being retained as backups.
The York sightseeing tour has a PVR (Peak Vehicle Requirement) of six in the summer months. During Easter and autumn it's four while for February, March, October and November it's two. Each vehicle can make up to seven circuits of the city covering around 72.5km daily.
TB operates two Optare Solos with Magtec electric drives that are both now based at Harrogate. Last year the operator secured £2.25m from the Government's Low Emission Vehicle Scheme that will enable it to buy eight Volvo 7900 electrics that will convert the Harrogate town network to electric operation from early next year. That funding covers 90% of the difference in cost between a new electric bus and its diesel-powered equivalent as well as up to 75% of the cost of the supporting infrastructure. Three pantograph charging points are to be installed at Harrogate bus station owned by TB.
The Volvo 7900 electrics will operate on routes 2A (Dene Park & Bilton circular), 2B (Bilton & New Park Circular), 3 serving Jennyfield, 6 reaching Pannal Ash and X6 (Harrogate-Beckwith Knowle Business Park), a combined roster requiring up to six vehicles.