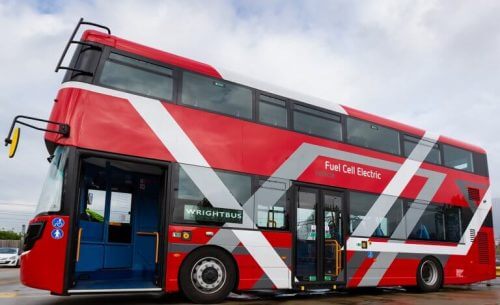 After a long wait to find out if Wrightbus still had a chance of being purchased, the factory workers finally got the news they wanted to hear at 1000hrs on Friday 11 October.
A statement from Jo Bamford was released, which read: "We are delighted to announce that this morning I have agreed terms on a deal in principle with the Wright family for the Wrightbus factory and land.
"We are still to conclude a deal with the administrators but are pleased to report this important step in the right direction.
"I would like to thank Ian Paisley MP for his hard work and diligence in helping to mediate what has at times been a tricky negotiation."
The Belfast Telegraph reported Jeff Wright, owner of the Wrightbus factory and land, said the deal was reached following "intensive overnight negotiations between the two parties" over the sale of Wrightbus to Ryse Hydrogen.
In a statement, he said: "The outcome of the negotiations involved pragmatism in arriving at an arrangement which is ultimately in the best interests of the long-term sustainability of the bus manufacturing business and jobs in the Ballymena area.
"Mr Bamford's firm will acquire the entire premises at Galgorm including the factory, fixtures and fittings as well as the associated land."
Wishing Jo Bamford every success, Jeff Wright confirmed that he had gifted 40 acres of family-owned farmland to Mid and East Antrim Council by way of a legacy for the people of Ballymena in recognition of their contribution over 70 years to the service of Wrightbus.
"This legacy gift is a tribute not only to my father, his father before him, and the Wright family members but most importantly the generations of workers who helped build a proud manufacturing tradition in Ballymena. It is my true wish to see this legacy used for the purposes of expanding manufacturing and benefiting my local community.
"Mid and East Antrim Borough Council have ambitious manufacturing plans, led by Council Chief Executive Anne Donaghy, for Ballymena, and the Wrightbus legacy lands could be used for a landmark project to grow jobs and industry.
"I believe this use of the Wrightbus legacy land would send a clear message to Northern Ireland and beyond that Ballymena has a strong future in advanced manufacturing.
The deal is still to be finalised with the administrators, but it's strongly believed that a deal will be concluded in the coming days. It is hoped that all 1,300 employees will be able to return to work, with one worker saying: "We just want to get back to work now and continue to build world-class buses."
Bus operators around the world which operate Wrightbus products will also be pleased to hear the good news, knowing that the vehicle spares supply chain, product support and new vehicle warranties could potentially be reinstated in the coming weeks.