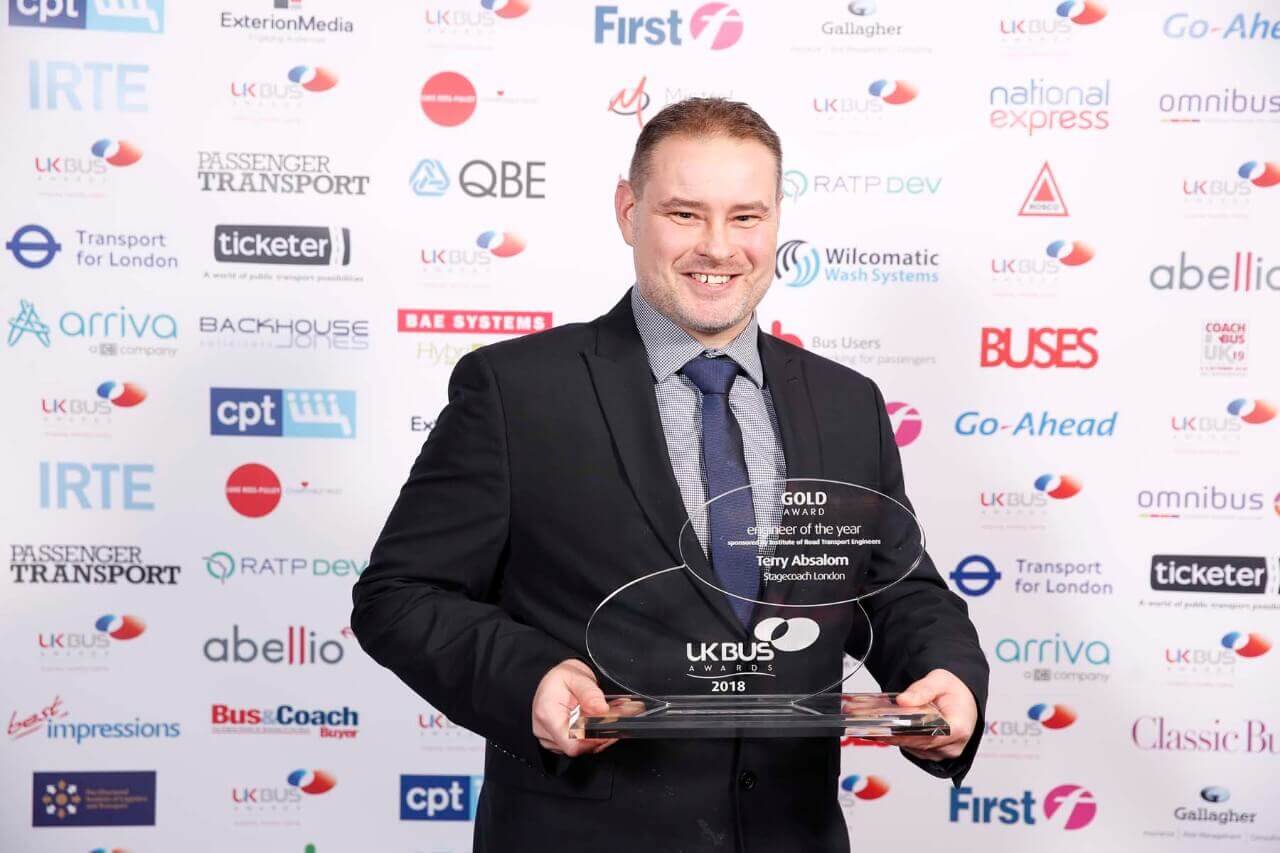 Life's never boring for Engineering Manager Terry Absalom at Stagecoach's Plumstead depot in London. Sure it can be hectic at times, but Terry wouldn't have it any other way. He discusses his career and success at the UK Bus Awards with Madaline Dunn
Securing gold at the UK Bus Awards in the 'Engineer of the Year' category Terry Absalom has had an extensive and successful career in the bus industry. Starting off as an electrician, he is now responsible for a wide range of duties as Engineering Manager of Plumstead depot, ensuring the delivery of high standards.
Leaving school in 1990, Terry Absalom started his career at London Central – now part of Go-Ahead Group – as a young, fresh-faced apprentice electrician. Enjoying the job, he completed a four-year apprenticeship there, and thereafter continued to work at New Cross bus garage as an electrician.
[…]
<p style="font-size: large;">Are you enjoying this feature? Why not subscribe to continue reading?</p>
<p style="font-size: x-large;"><a href="https://cbwmagazine.com/subscribe/">Subscribe</a> for <strong>4 issues/weeks from only £2.99</strong>
Or <a href="https://cbwmagazine.com/login/">login</a> if you are already a subscriber
<p style="font-size: x-large;">By subscribing you will benefit from:</p>
<ul style="font-size: large;">
<li>Operator &amp; Supplier Profiles</li>
<li>Face-to-Face Interviews</li>
<li>Lastest News</li>
<li>Test Drives and Reviews</li>
<li>Legal Updates</li>
<li>Route Focus</li>
<li>Industry Insider Opinions</li>
<li>Passenger Perspective</li>
<li>Vehicle Launches</li>
<li>and much more!</li>
</ul>