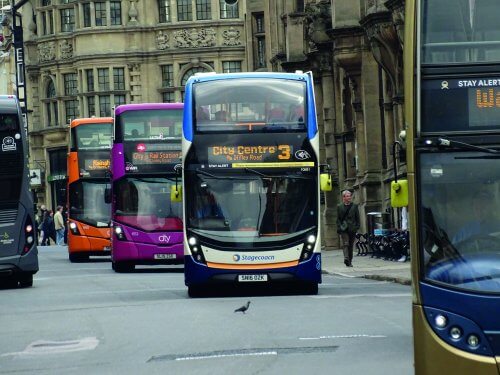 Oxfordshire is aiming to encourage more passengers back on to buses through closer working to improve services in the county.
Oxfordshire County Council's Cabinet, in its role as local transport authority, agreed on Tuesday 22 June to establish an Enhanced Partnership by April 2022 and has invited all of Oxfordshire's local bus operators to participate in it. The Council believes the new approach will allow it to have greater input into items such as timetables, multi-operator ticketing and improvements to services. Operators will be expected to work with the council to both develop and deliver improvements for passengers, and bring their expertise, innovation and the potential for investment. The details will be brought together in a Bus Service Improvement Plan, which is expected to come back to the council for approval in October.
Councillor Tim Bearder, Oxfordshire County Council's Cabinet Member for Highways Management, said: "This new way of directing money to local councils is an exciting opportunity for the county's elected representatives to have a stronger voice in influencing decisions where our buses go and who has access to them. The new Oxfordshire Fair Deal Alliance wants to use our enhanced responsibility to forge a stronger partnership with local bus operators because we recognise that the more people that use buses, the quicker we can reduce congestion, pollution, and tackle climate change. Enhancing our partnership with Oxfordshire's bus providers also gives us the chance to reach out to communities we feel have been left behind or cut off over recent years. It isn't a silver bullet because the money is limited but it should be the start of something that is better for everyone."
The Enhanced Partnership is a more formal extension of the quality bus partnership, which has been operating in Oxfordshire over recent years. It has led, through joint working, to a number of initiatives including: the introduction of the Oxford 'Smartzone' and multi-operator ticketing; coordinated timetables on main routes using the associated bus qualifying agreement; and a managed approach to the introduction of low emission buses. The alternative option of franchising Oxfordshire's bus services was rejected due to the complexities and the financial risks involved.
Although Oxfordshire has boasted the highest per capita bus use of any shire county in England, passenger numbers have still been declining, with annual trips falling from 43.2 million in 2013/14 to 40.8 million in 2019/20. The Covid-19 pandemic accelerated these challenges across the country, and the drive towards Enhanced Partnerships is part of the Government's national bus strategy, aimed at getting passenger numbers to return to – and then exceed – their pre-Covid-19 levels.
Discussions have been taking place between the Council and Oxfordshire's two main operators, Stagecoach West and the Go-Ahead Group, which includes the Oxford Bus Company, Thames Travel and City Sightseeing. Informal discussions are also taking place with Oxfordshire's numerous other local bus operators for their views on the Enhanced Partnership.
Phil Southall, Oxford Bus Company Managing Director, said: "We look forward to further strengthening our partnership with Oxfordshire County Council and other bus operators to further improve our services for customers across Oxfordshire. This Enhanced Partnership is a legal agreement setting out who is going to do what and will be introduced in April 2022. It will be supported by an ambitious bus service improvement plan, which will be submitted to Government at the end of October to request funding for delivery to start once the Enhanced Partnership is in place. We hope that bus users will benefit from next year."
Rachel Geliamassi, Managing Director at Stagecoach West, said: "We are excited to work alongside Oxfordshire County Council and stakeholders within the Enhanced Partnership framework to maximise the opportunities of the Government's national bus strategy. The pandemic really highlighted the vital role buses play in keeping Oxfordshire moving and offering a sustainable travel solution. This is a huge opportunity to develop innovative ways to support public transport, by taking a holistic view of how the road network is managed and used. As travel patterns continue to evolve, how we plan and react is crucial as we seek to rebuild bus services from the impact of Covid-19. We welcome the early engagement with Oxfordshire County Council to shape the priorities for bus services in the region under a Bus Service Improvement Plan to benefit our customers and make buses easy to use."