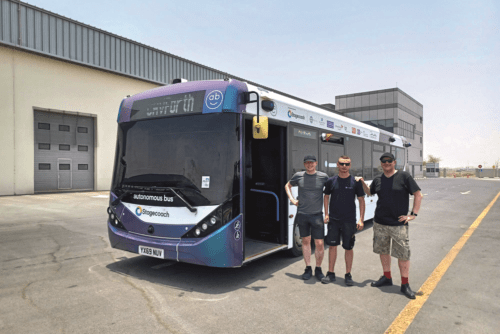 UAE
Alexander Dennis has concluded on-track testing of an Enviro200AV autonomous bus as part of the 2023 Dubai World Challenge for Self-Driving Transport.
Along with its technology partner Fusion Processing, Alexander Dennis is one of six automotive consortia that Dubai's Roads and Transport Authority (RTA) shortlisted for the competition, which this year focuses on buses. It has been organised in conjunction with the Dubai World Congress for Self-Driving Transport taking place in September, where a winner will be announced.
The vehicle submitted to the challenge is an Enviro200AV autonomous single deck bus, one of five vehicles built for the CAVForth project in Scotland, which launched its 14-mile route across the Forth Road Bridge near Edinburgh earlier this year. In Dubai, the bus has been put through its paces on a test track that captures a near real-life experience of traffic conditions in the city. During testing, it faced 21 case scenarios ranging from autonomously bypassing obstacles safely to severe weather conditions like sandstorms.
In addition to the technology's performance, finalists are evaluated on the value proposition their solution offers the RTA for a potential implementation in Dubai as part of its strategy for 25% of all transport trips to be both smart and driverless by 2030; the RTA is supporting participants in the challenge with a mobilisation grant for each shortlisted company.
Alexander Dennis Head of Concepts & Advanced Engineering Jamie Wilson led the team in Dubai: "This has been a great opportunity to build on the great work we've done with our partners in the CAVForth project and test our autonomous bus under further traffic conditions. We're extremely grateful to the RTA for giving us the chance to show the capabilities of our Enviro200AV and we hope to continue the conversation on how we can support the RTA's strategy."
Alexander Dennis Group Engineering Director Chris Gall added: "Our selection as one of only six finalists globally is a fantastic credit to the amazing work done by our engineering team and our partners at Fusion. Our spirit of innovation makes Alexander Dennis a technology leader recognised on the world stage."
CEO of Fusion Processing Jim Hutchinson, said: "The successful testing in Dubai is another great step in our collaboration with the team at Alexander Dennis. Fusion's CAVStar Autonomous Level 4 system will allow Alexander Dennis to offer bus operators transformational improvements in safety, operational efficiency and cost."