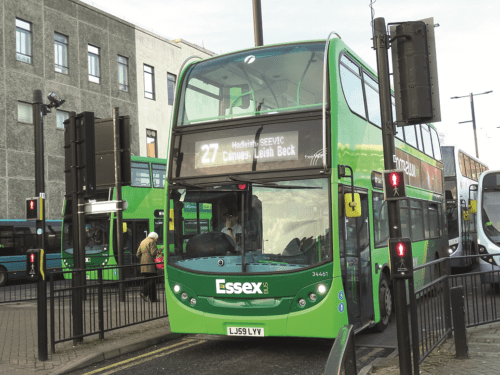 Essex County Council is reviewing supported service provision at a time when reduced demand means some services are costing double its per-journey target figure
Essex County Council (ECC) is reviewing its support for 162 local bus services across the county, and has launched a public consultation to allow it to 'ensure that our future bus network is ready to meet new levels of passenger demand and is providing value for money.' The council says the consultation, which closes on 5 October, will enable it to assess whether to continue providing the services, and if so in what capacity, or whether to look for alternative solutions.
Around 85% of the Essex bus network is run commercially, ECC says, whilst the remaining 15% of services are not commercially viable and require support. "However, the strong financial pressures on all local government funding means that ECC must look very carefully at how it will provide all its services to make sure that the limited funding available is focused where it will be of most benefit to the public," the council says.
At present ECC spends around £10m on supported services each year, and has a policy which includes a value for money measure to ensure that taxpayers are not funding services that are lightly used much or have too a high cost. The measure is currently valued at £5 per passenger journey, above which figure ECC will review the service, although this was suspended during the pandemic.
Patronage has been increasing post-pandemic, the council says, but there remain a number of services which were either struggling to attract passengers before Covid-19 or where passengers have not returned. Although it is not proposing to re-introduce the £5 measure immediately, as it believes there is still some growth to be seen in patronage, the council says that there are several services which are costing substantially over the £5 measure, and as much as double that to support.
The consultation will cover options including continuing most services as they are, redesigning some services or withdrawing services altogether where they are not sufficiently well-used to justify their cost and where there is little likelihood of service changes improving that position.