EVM is making its first move into the conversion of coaches to PSVAR specification, with the first model to be the Mercedes-Benz Tourismo
EVM, best known for is Mercedes-Benz mini coaches, has added another string to its bow undertaking the conversion of Mercedes-Benz Tourismo coaches to PSVAR specification including the integration of a well-engineered access door with glazing matching shape, tint and size of the original OEM offering and a cassette lift from PLS. Two pairs of seats next to the door conversion will be fitted on tracking and the seats fitted with NMI legs to allow quick release. If specified, the length of the tracking can be increased to allow more than one wheelchair to be carried. The complete conversion will also include front, side and rear destination equipment to fulfil PSVAR requirements.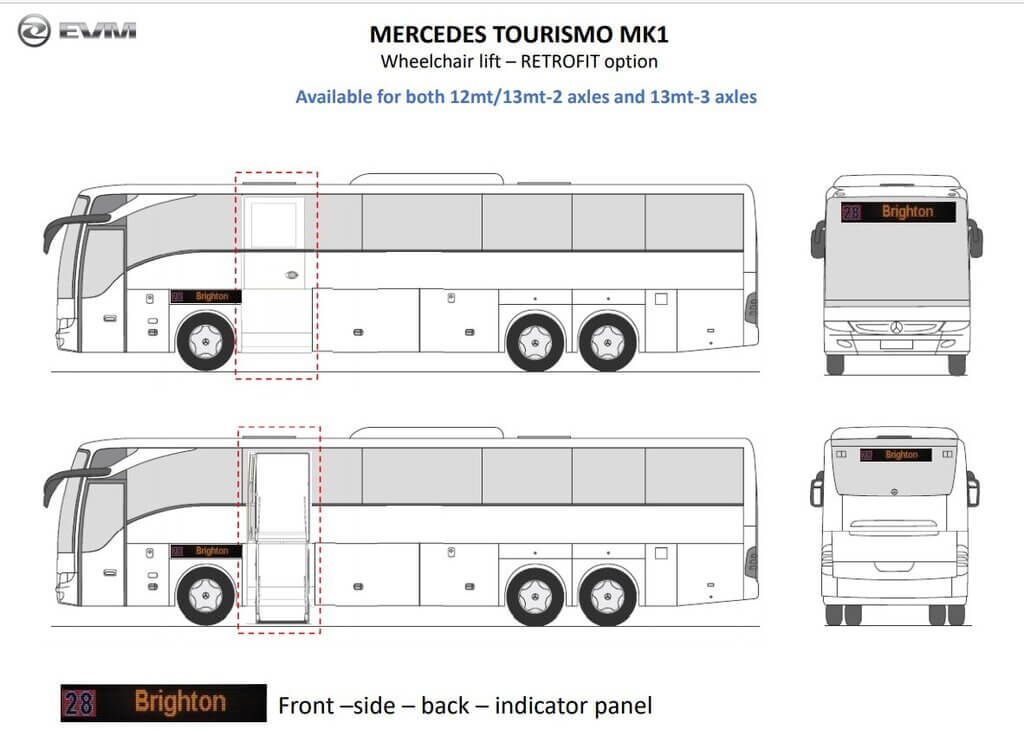 Commenting on the new offering Danny McGee, EVM Managing Director, said: "With the recent increase in demand brought on by Government legislation and specific requests from long term customers here in the UK who understand our engineering capabilities, we took the decision to start with the Tourismo as it has been a popular coach across the UK over the last 10 years. We believe we are well placed to carry out these conversions in reasonable numbers with the scale of our facility and paint cabins up to 18m where we can also provide a complete repaint and colour change if required. We are getting enquiries from coach dealers, asset funders and lease companies who also have coaches available and are interested in quality conversions for their customers."
Cosimo Facecchia, Engineering Manager at EVM said: "We have made a careful study of the Tourismo and created a solution which will in no way affect the structural strength of the coach. Our offering will give as close as possible to a well finished OEM solution and will be aesthetically pleasing. We will cover all required certification to include Regulation 107.06 for wheelchair space and Regulation R80.02 for seat anchorage strength."
Ivor Jones, General Manager at EVM said: "At this point, we are not ruling out other models but we feel we are best to start with one model and get it right. There is a considerable investment in testing, set up and glazing to get a level of finish matching OEM providers and we believe being a specialist of one model is the best way to achieve a positive result. We see this as a good opportunity to maximise the use of a recently vacated factory unit we have at our Kilbeggan site. This building was once used for the maintenance of coaches so we know this will work very well. Our offering will not just be for the PSVAR conversion, we are offering the service from vehicle collection at customers premises, conversion, repainting if required, certification and delivery. We believe when we are up to speed we will turn vehicles around in four weeks and have a capacity of up to 16 units per month.
More details can be found at www.evmdirect.co.uk or you can speak to a member of the EVM Direct team: In the North: Matt Thompson 07860958233 In the South: Guy Billings 07736635958 and HQ: Danny McGee 07749103203.