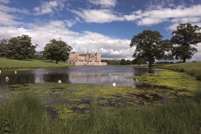 This 14th century fortress is ideal for a group day out.
Raby Castle near Darlington, Co Durham, now offers groups an exclusive private guided tour alongside the popular VIP and guided tours already on offer.
The exclusive tour will include refreshments in the castle's Grand Entrance Hall, a private tour of the castle by an experienced guide and a souvenir guide book for each guest.
The tour is available for groups of 12 or more at £17.50 each.
Groups can also book general free flow visits during July and August allowing visitors time to enjoy the fabulous interiors, fine furniture, impressive artworks and elaborate architecture. The rest of the day can be spent relaxing in the grounds and gardens, or visiting the shop and tearooms.
Guided tours only take place Monday to Wednesday in May, June and September.
General group admission is £7.50 for adults and £4 for children for the castle park and gardens, or £4.50 for adults and £2.50 for children for just the park and gardens.
Group benefits include free parking and familiarisation visits, free admission for the coach driver and organiser, meal vouchers for coach drivers, and an optional meet and greet service on the coach.
There is ample free coach parking in the grounds and a coach drop off and pick up point right outside the castle gates.
Set in the heart of the Durham Dales, Raby Castle is one of England's finest medieval castles, surrounded by beautiful countryside containing a 250- acre deer park and 18th century walled gardens. A horse-drawn carriage collection is housed in the old stables. There is a gift shop to visit and tearooms, which can accommodate groups for lunch and light snacks.
The park and gardens are open between 1100 and 1730hrs, while the castle is open between 1300 and 1630hrs.
Visit www.rabycastle.com for more information or call the admin office on 01833 660202.