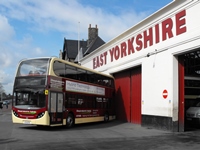 East Yorkshire Motor Services (EYMS) has announced that its free WiFi service is now available on 11 additional double-deckers, operating on routes 75, 76 and 77 between Withnersea and Hull.
Following the success of WiFi services, provided by Chatham-based Icomera, on dedicated routes serving Hull and the University, and Hull and York – EYMS has since been nominated for the Hull Daily Mail Digital Awards.
EYMS Chairman, Peter Shipp, said: "I hope WiFi will be an added attraction for passengers on these longer routes as it certainly has been on the University and York routes. We have seen over 200,000 sessions of WiFi use on those two routes so far, with a lot of very positive comments.
"Although WiFi was only introduced on the Hessle route earlier this month it is already proving very successful.
"I hope it will help passengers pass the time on the longer journeys – something they certainly can't do if driving. It isn't cheap to install and currently we have no plans to extend WiFi to other routes on our extensive network, but if it proves as popular and encourages more passengers to travel as it has done on the other services – we will certainly consider extending it in future."