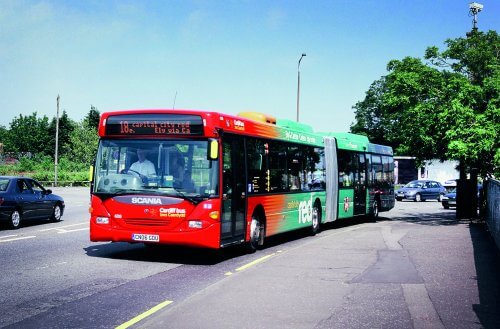 Articulated or 'bendy' buses, have added a touch of European style to Wales' capital city but as Cardiff Bus prepared to say farewell to the remaining buses, Andrew Wiltshire looked back at their time in Cardiff.
By 2004 increased patronage on Ely services 17/18 meant that Cardiff Bus needed bigger vehicles, even with a five-minute frequency. The operator also wished to revamp the bus link between the city centre and Cardiff Bay, which it rebranded as 'baycar.' A Mercedes-Benz Citaro articulated bus was evaluated in early 2005 and used in service including on routes 17 and 18. An order was soon placed for a fleet of 19 two-door Scania OmniCity articulated buses, which were built in Poland. They were to have seating for 53 and a standing capacity of 80 and featured many extras such as full air-conditioning, next stop displays, pre-recorded passenger announcements, and internal and external CCTV.
Bus stops were modified to accommodate the longer buses and stops for routes 17 and 18 were moved from the bus station to the north side of Wood Street.
The livery and all publicity material including timetables and bus stop flags were designed by Ray Stenning's Best Impressions. Four vehicles, 601 to 604, were finished in a blue livery for baycar service 6 while 605 to 617 were in a red and green livery and branded Capital City Red for the Ely routes 17 and 18. The remaining two buses were numbered 618 and 619 and featured a generic two-tone green livery with cream fronts, for operation on either service as required. The new articulated buses entered service from 28 May 2006.
The Scanias rarely strayed from these routes, but could be called upon to help out on X59 park & ride duties and for special events. With the ability to carry a large number of people, for a number of years a bendy bus could be seen working a few term-time journeys from Roath to Western Avenue, Llandaff on the Cardiff MET University service, as well as to Colcot Road, Barry on the 96 serving Cardiff and the Vale College.
Commencing in the summer of 2013 the entire fleet was given a mid-life refurbishment, which included a full upholstery re-trim. The four baycar buses (601 to 604) emerged in a revised blue-based livery, while the remaining 15 buses received standard fleet livery with an orange front. At the start of the pandemic in 2020 four buses were put into store and two of them were eventually sold. The baycar service 6 changed over to smaller vehicles and 604 was painted into standard fleet livery. The remaining 15 bendy buses continued to work Ely routes 17 and 18.
Operation of these distinctive vehicles will finally come to an end, with the last day of operation being the 29 January 2022. In the short-term services 17 and 18 will be operated using double-deck buses that can carry up to 99 customers. Omnicity 604, SN06 GDK, has been secured for preservation with the North West-based Cardiff Bus 604 Preservation Group; further details can be found on the group's Facebook page or at @Cardiffbus604 on Twitter.
Text and images reproduced courtesy of Cardiff Bus.