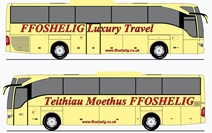 Ffoshelig Coaches of Maes Y Prior near Carmarthen is the first operator in Wales to be Benchmark accredited by BUSK following an independent audit. The firm has secured the top six star rating.
Proprietor Rhodri Evans told CBW: "Benchmark sets a standard, a goal for operators to aim for. Achieving it has given me a great sense of pride and will mean that customers can be even more confident dealing with us."
Rhodri has ordered a new two-axle Mercedes-Benz Tourismo 55-seater for December delivery so that it can be registered on January 1, 2016. The firm's vehicles regularly visit London so LEZ (Low Emission Zone) compliance is important. Not only does the Tourismo meet that requirement, it has excellent seating capacity. Schools related work makes a valuable contribution to the business. Seven Carmarthenshire County Council contracts are operated and there's a commercial school service. Dial-a-ride is also provided for the council.
Currently in the fleet are three Plaxton-bodied Dennis Javelins and a similar number of Volvo B7Rs – one Jonckheere Modulo-bodied, another by Plaxton while the third is a 10m coach with Sunsundegui Sideral coachwork. Also owned are a Berkhof Axial VDL SB4000, Volvo B10M Jonckheere Deauville and a 52-plate Van Hool B10M, one of the last to be registered.
Ffoshelig Coaches can trace its origins back to the business David Jones founded in 1921. His first lorry, a Buick was converted so it could carry passengers to Carmarthen market. Desmond Jones took over on his father's death in 1977, selling the trading name and remaining vehicles to Rhodri Evans in 1996. The firm became a limited company in 2013.