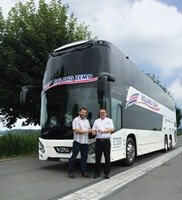 Swiss operator is first to take delivery of 13-metre VDL Futura FDD2
SWITZERLAND The first 13-metre VDL Futura FDD2 has been delivered to Swiss operator Roland Zemp Carreisen. This more compact version of the Futura double-decker can still  seat up to 84 passengers and the reduced length makes it highly manoeuvrable says the manufacturer. The lightweight modular construction in combination with a fuel-efficient driveline and aerodynamic shape aim to deliver low fuel consumption and thus reduced CO2 emissions.
"With the purchase of this new VDL double-decker our entire VDL fleet is now completely up-to-date," said Roland Zemp, director of Roland Zemp Carreisen. "We want to offer our passengers the best possible service when they travel with us, and this ultra-luxurious double-decker provides ultimate comfort and safety."
The VDL Futura FDD2-130 for Roland Zemp Carreisen has a specious 71-seat specification. Each of the seats has a USB connection. Both decks have video monitors and there's a digital TV and DVD player. As well as catering facilities, there is also a kitchen.
The interior of the Futura FDD2 is characterised by round corners and modern light colours. Headroom on the lower deck is 186cm. An innovation is the improvement in the driver's upward viewing angle, achieved by sloping the floor of the upper deck upwards at the windscreen. This gives the driver the feeling of having plenty of space.
Roland Zemp Carreisen is a family-owned business established in 1999 that places great value on quality. There are six VDL vehicles in the fleet which are used on school trips, airport transfers, domestic and international group travel and long-distance transport to various destinations within Europe.